Vietnamese primatologists and their foreign partners from Fauna & Flora International (FFI) have discovered more than 500 grey-shanked douc langurs, an extremely rare primate species, in the Central Highlands region.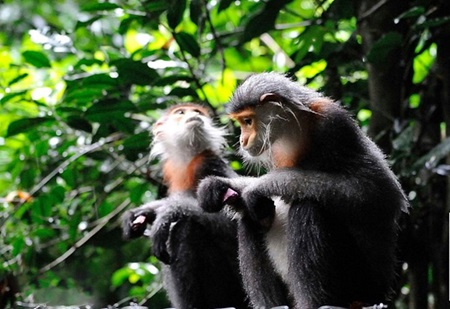 Two of the 500 grey-shanked doucs are found in Viet Nam by the Vietnamese primatologists and their partners from Fauna & International (FFI). — Photo FFI 
The discovery was confirmed at a press conference held by FFI yesterday in HCM City to announce the results of a survey team's working trip to Kon Tum Province, where the langurs were found.
Dr. Trịnh Đinh Hong, who led the FFI survey team, said this was one of the largest populations of the extremely rare primates ever found in the country.
Meanwhile, Dr Ben Rawson, FFI-Viet Nam Programme Country Director, admitted the rare langur species had never been spotted outside of Viet Nam.
He said the discovery had raised new hopes amongst FFI scientists, who hope to protect and recover the rare primate species, which is currently on the brink of extinction.
The FFI country director said the FFI was making every effort to prevent their extinction. He appealed for full support from the government, authorities of all levels and the local community, in particular, to help secure the survival of these animals over the long term.
According to the FFI, the population of grey-shanked doucs in Viet Nam is being threatened by deforestation, poaching and the trafficking of wild animals for meat or medicine.
Doucs are native to Southeast Asia and are categorised in three species: red-shanked, grey-shanked and black-shanked.
The grey-shanked doucs generally have dappled grey bodies, black hands and feet and white cheeks.
This species, scientifically named Pygathrix cinerea, is native to the Vietnamese provinces of Quang Nam, Quang Ngai, Binh Dinh, Kon Tum and Gia Lai. They feed primarily on leaves and live in tribes comprising up to 50 individuals, though individual tribe population numbers have fallen significantly to only 4-15 individuals in recent years.
Grey-shanked doucs, along with three other primates that are native to Viet Nam, have consistently been listed among the world's 25 most endangered primates since 2000 by the International Union for Conservation of Nature's (IUCN's) Species Survival Commission's Primate Specialist Group, the International Primatological Society and Conservation International.
The species is also on the IUCN Red List of Threatened Species, categorised as "critically endangered," with only 800-1,000 individuals left worldwide.
Farmer's trap ensnares wildcat
A farmer in the southern Vinh Long Province's Vung Liem District yesterday caught a cat that resembled a precious and rare African wildcat.
Thinking that a weasel was hunting his chicken, farmer Luu Thanh Trung, 41, in Quoi Thien, set up a trap. However, the snare caught a cat.
The cat weighs 4kg, has colourful fur and has a temper similar to that of an African wildcat.
Another resident of the province, Nguyen Van Day had caught a similar cat earlier, which was taken to a reservation area in Phu Quoc Island in the southern Kien Giang Province. 
VNS