VietNamNet Bridge - Twenty areas in HCM City have seen rapid subsidence, while the other 40 sites are subsiding at a slower rate, according to the HCM City Department of Natural Resources and the Environment.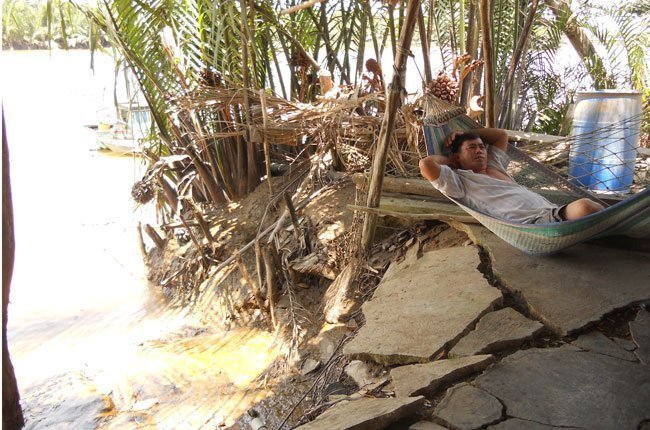 The depression area in Nha Be district
A report released recently by the department showed that the total depression areas in the city had reached 7,200 hectares.
The areas with rapid subsidence are in wards 7, 15 and 16 in district 8, Thanh Loc and An Phu Dong in district 12, Tan Tao A, An Lac and Binh Tri Dong B in Binh Tan district, ward 26 in Binh Thanh, and some communes in the suburban districts of Binh Chanh, Hoc Mon, and Nha Be.
The report showed that the subsidence continued in 2015 and the most seriously affected area had subsided 28 mm. 
It is estimated that 356 hectares are located in 'rapid subsidence' areas, the areas with a  depression of more than 15 mm per annum. 
Meanwhile, 2,440 hectares are in 'relatively rapid subsidence areas' with the depression rate of 10-15 mm per annum. The 'medium subsidence areas' (5-10 mm per annum) cover an area of 4,400 hectares.
A report released recently by the department showed that the total depression areas in the city had reached 7,200 hectares.
The city's agencies, comparing the figures in the reports released in 1996-2012 and the latest report, found that subsidence continues in the areas in districts 8, 12 and BInh Chanh. 
'Rapid subsidence areas' have no longer appeared in the districts of 5, 10, 11 and Tan Binh. New large subsidence areas have been found in Nha Be and Binh Chanh districts.
Thi Thi Tuyet Nhung from the city's People's Council has asked the natural resources department to conduct research to discover why the subsidence is occurring and clarify the possible impact of subsidence on infrastructure projects and houses.
According to Nhung, the subsidence in the city is related to flooding which has had negative influences on people's lives.
He said it was necessary to have an overview about the influences to help state agencies and businesses make investment decisions.
Two years ago, scientists in the city raised the alarm about the overexploitation of underground water, the construction of high-rise buildings and concrete pavements which would lead to subsidence in many areas, especially in the southern and southwestern parts of the city.
The reports released a number of years ago showed that up to 600,000 cubic meters of underground water were exploited every day. 
This exploitation, plus the rapid population increase and the rapid urbanization, have led a lowering in the land for green space and to many other bad consequences.
In related news, the city has drawn up a project to build 27 automatic stations and 227 semi-automatic stations to monitor air quality and the surface and underground water. 
TBKTSG