While saltwater has intruded deep into the Mekong Delta, it is also affecting water sources for production and daily activities in nearby Ho Chi Minh City.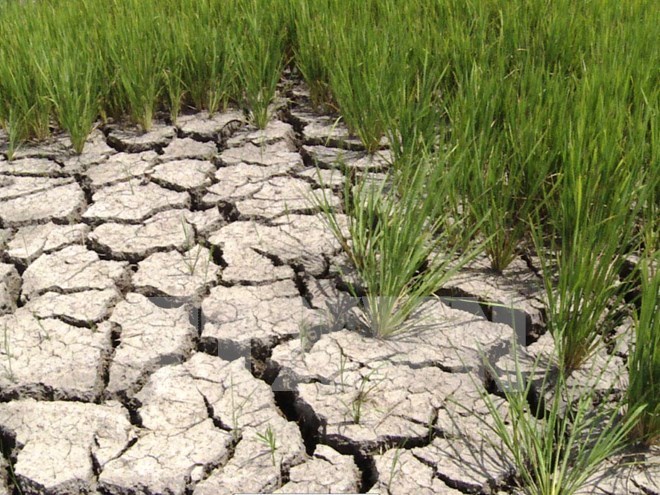 In an urgent report sent to the municipal People's Committee, relevant agencies said the El Nino phenomenon since the outset of 2016 has seriously impacted water in the Dong Nai and Saigon rivers, causing water shortages.
The amount of water stored in Dau Tieng Lake on the upper Saigon River is now estimated at 928 million cubic metres, only 76 percent of the lake's storage capacity. Meanwhile, the water amount in Tri An Lake on the Dong Nai River is equal to 80 percent of that in previous years.
A decrease in the flow of upstream water along with tidal surges has led to severe saltwater intrusion into the upper Saigon River.
Bui Thanh Giang, Deputy Director of the Saigon Water Corporation (Sawaco), told the Sai Gon Giai Phong (Liberated Saigon) daily that drought and saline intrusion have directly effected the firm's water production and supply.
Notably, Sawaco's Tan Hiep water plant has had to suspend collecting water for processing many times since the water salinity of the Saigon River exceeded the permissible level of 250mg per litre at certain points of time.
Giang said though the Tan Hiep factory asked for the release of water from Dau Tieng Lake to push back saltwater on the Saigon River, the lake water is now not enough to prevent intrusion. The plant has to stop collecting water for six hours a day on average.
The same situation was reported at the Binh An water plant, which treats water from the Dong Nai River to provide for Sawaco. From February 5 – 14, the Binh An plant halted collecting water for 4 – 10 hours a day as the salinity sometimes reached up to 600mg per litre.
Even though the salinity at other places on the Dong Nai River has not surpassed the permissible level, other water plants such as Thu Duc, BOO Thu Duc and Thu Duc 3 are still facing difficulties as the salinity is increasing and water shortages are worsening, the Sawaco executive noted.
VNA