A multitude of areas of cajuput forest in the Mekong Delta province of Ca Mau are at high risk of catching fire, posing a range of challenges for firefighting work in the locality.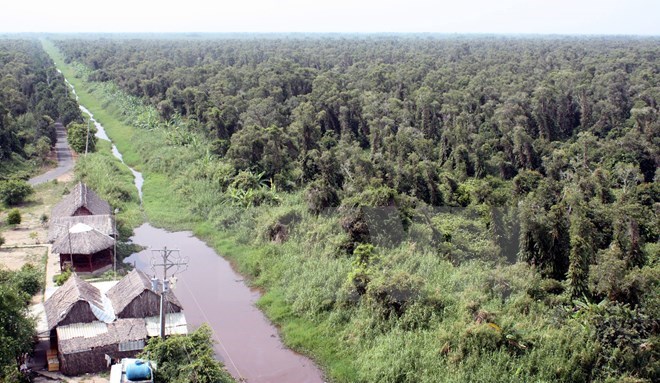 U Minh Ha forest in Ca Mau province
At risk are 20,135 hectares owned by U Minh Ha Forestry One Member Co Ltd and a further 7,000 hectares in other parts of the forest. Also, more than 2,000 out of 8,500 hectares of the U Minh Ha National Park are also in alarm.
Given this, the company has deployed 13 water pump groups in the forest, consolidated dams and teamed up with local authorities, other forest owners and relevant units to support each other when necessary.
The company's staff have been asked to work around the clock and stay ready to fight fire during this year's dry season, according to Director Tran Van Hieu.
Huynh Minh Nguyen, Director of the U Minh Ha National Park, said that right after the end of the rainy season, the unit took the initiative in fire prevention and fighting, as the upcoming dry season is forecast to develop erratically.
According to the provincial Forest Ranger Department, forest wardens have been stationed around the clock at 126 posts in the forest, along with 86 groups of large-capacity water pumps which have been dispersed across the forest and nearly 64,000 metres of plumbing.
The provincial Department of Agriculture and Rural Development has asked forest owners to keep a close watch on underground water levels and moisture to make accurate fire forecasts.
Apart from increasing patrols, more attention should be paid to communication work to encourage the public to participate in fire prevention and fighting.
VNA