VietNamNet Bridge – Vietnam may face difficulties in power generation this dry season as El Nino has led to reservoirs running out of water in the central regions, the Vietnamese Group of Electricity (EVN) said.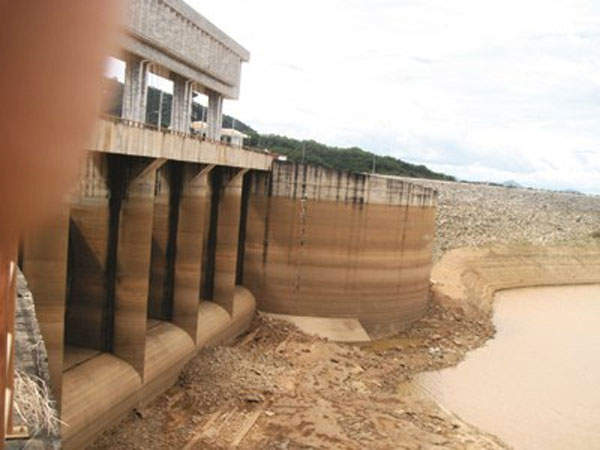 A reservoir at Yaly Hydropower Plant is becoming dry
At a meeting Monday on the power supply for 2016, Vice Director of the National Load Dispatch Centre, Vu Xuan Khu, reported water levels had dropped at hydropower plants across the central and central highlands regions to levels 6.49 billion cubic metres lower than normal, forecasting a shortfall of 3.22 billion kWh in electricity.
"Many hydro power plants, mostly in the central highlands region, have stopped operation due to the low water level in their  reservoirs, including the Dai Ninh and Dong Nai in Lam Dong province, and Yaly in Kon Tum Province," Khu said.
"The one-billion-cubic-metre reservoir at Yaly Plant now has only 46% water left, while the 1.6-billion-cubic-metre reservoir at Dong Nai 3 Plant has 55%," he said.
"Several plants in the central and southern provinces are facing the same situation. A Vuong Plant in Quang Nam province has stopped operating for nearly a month now due to running out of water. Ham Thuan Plant's reservoir in Binh Thuan Province is at 76% capacity, but it is predicted to run short by May due to higher demand in this region."
A recent report by the Ministry of Agriculture and Rural Development said drought conditions will continue to affect the central and central highlands regions this year due to the El Nino weather phenomenon.
Given the effect of the El Nino this year, the flow of water to lakes and reservoirs in the central and the central highlands region will keep declining sharply, the report said.
Khu said power plants will have to use more petroleum for generating some 2.5 billion kWh of electricity to ensure power supply for economic activities.
"We are now using petroleum to generate 26 million kWh in January and February," he said.
Vice director of EVN, Ngo Son Hai said the group will try to ensure stable power supply to the regions.
"We have made four plans to deal with different situations brought by the El Nino this year, including adjusting the flow of water from the reservoirs to ensure the balance of water resources by the end of the dry season," Hai said.
EVN said  the country's electricity generation capacity by the end of 2015 totaled 38,800 megawatts, and the industry can meet the annual electricity demand growth of 11-12% in 2016-2020.
EVN will spend more than VND600 trillion (US$26.6 billion) on new power generation and transmission line projects over the next five years.
There are currently 74 medium and large operational hydropower plants in Vietnam with a total capacity of 14,033MW.
Energy experts said Vietnam should invest more in renewable energy projects and strengthen energy cooperation with other Asian countries to meet annual demand growth of approximately 10% towards 2030.
The El Nino phenomenon started in late 2014 and is forecast to continue into 2016, thus affecting the hydropower plants which make up a large proportion of the nation's power output.
DTriNews/SGT