Tonnes of fish bred in floating rafts in Bien Hoa City, southern Dong Nai Province have died in the past few days, causing vast damage to local farming households.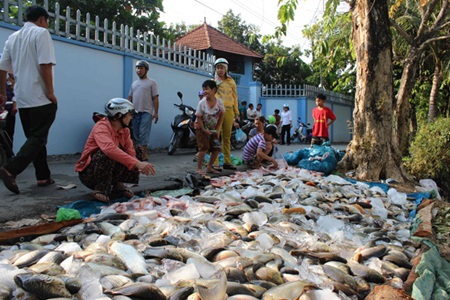 Fish farmers in Dong Nai Province's Hiep Hoa Commune have been selling fish for cheap following mass deaths there in the last few days.
Fish breeder Le Van Khiem in Hiep Hoa Commune said local people were heartbroken about having to see dead fish belly up in a section of the Cai River.
He estimated in his floating-raft area alone up to 200kg of fish died each day.
"This is a brood of fish that we invested all our money in, aiming at serving the increasing consumption in Tet," Khiem said.
Breeders had to barter dead fish away at a cheap price to animal-feed processing plants. Khiem said he and many other breeders estimated to suffer hundreds of million dong in losses in this period.
Local breeders are investing money to install oxygen machines at fish-breeding floating rafts, aiming at rescuing the rest of the fish.
Hiep Hoa Commune now has 241 households breeding fish in floating rafts.
Bien Hoa City authorities and Dong Nai Province's Department of Agricultural and Rural Development have taken samples of dead fish for testing, to find out the cause of the situation.
According to Khiem and local fish breeders, the main cause was a chemically-polluted water source in Cai River's section crossing Hiep Hoa Commune.
"Fish are bloated due to not enough oxygen," Khiem said.
A representative of Dong Nai province's Aquaculture Department said the decrease in the flow on the Cai River in this period amid the rapid increase in the number of fish cages caused fish to be bloated.
Additionally, the pollution was exacerbated by bags and the internal organs of poultry used as fish food which reduced the oxygen concentration in the water.
In the southern province of Ba Ria-Vung Tau, fish breeders have sued sea-product processing enterprises located at Tan Thanh District's Tan Hai Commune for damages.
Fourteen individual enterprises were determined to be the main cause of the situation of dead fish on Cha Va River last September. Untreated wastewater from these processing enterprises was at fault, stated the Institute for Environment and Natural Resources.
Long Son Commune's fish breeders suffered VND18 billion (US$800,000) in losses from the dead fish last year.
The enterprises did not accept the compensation of VND14 billion ($622,000) requested by local fish breeders, while breeders don't have enough money to pay court costs.
Bui Duc Binh, deputy chairman of Long Son Commune People's Committee said in the lawsuit, the cause and damage of dead fish were clear. However, the compensation depended on the court's conclusion, he said.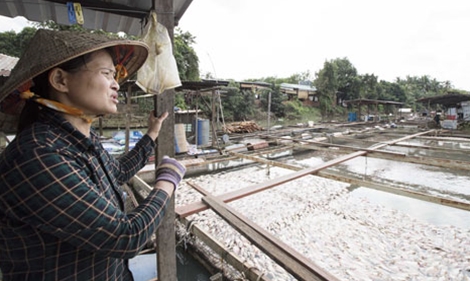 From 8pm on January 3 to 3am on January 4, more than 10 tons of fish of Ms. Pham Thi Ngan's family were dead.
 The family tried every method but they could not prevent fish from dying.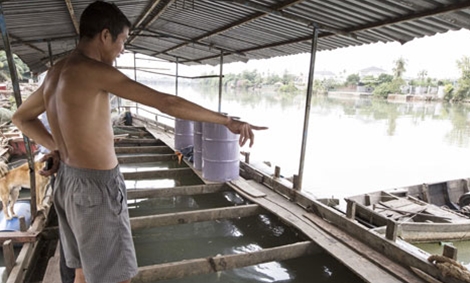 Ngan's husband - Mr. Le Van Quyet, 44 - said when he dived to check fish cages, his eyes were stung.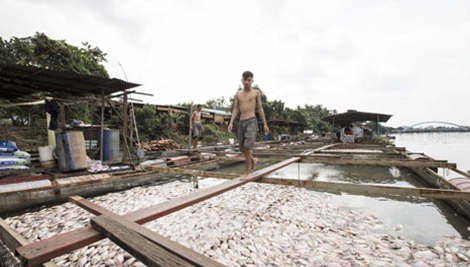 All family members did not have time to eat because they were very busy with fishing out the dead fish to bury.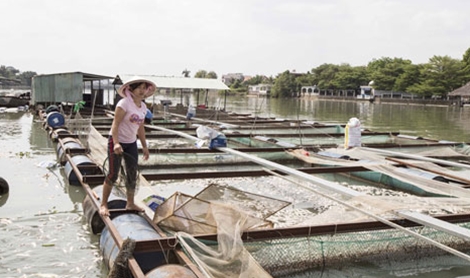 Many other families suffered from the same phenomenon, which caused huge losses.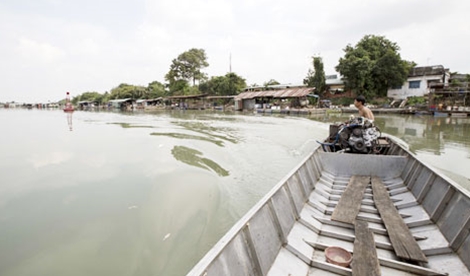 There are 274 fish cages of 241 households in Cai River (a branch of Dong Nai River) in Hiep Hoa commune. The incident caused losses of hundreds of thousands of USD for these families.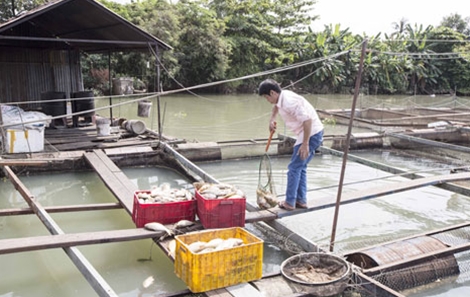 Fish breeders confirmed that the fish was killed by pollution.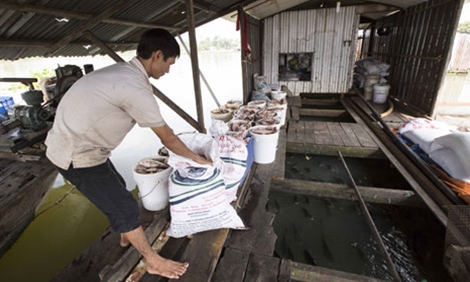 Fish breeder Nguyen Van Hong, who owns 20 fish cages, believed that fish was killed by untreated wastewater discharged by some factories.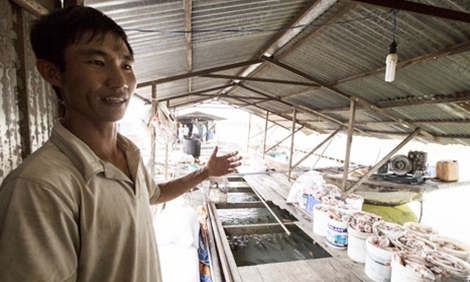 He said fish was dead because of lacking oxygen.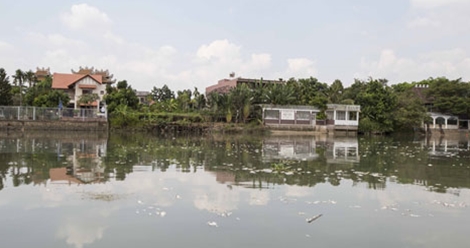 Tons of dead fish were burried. Some people angrily threw dead fish to the river.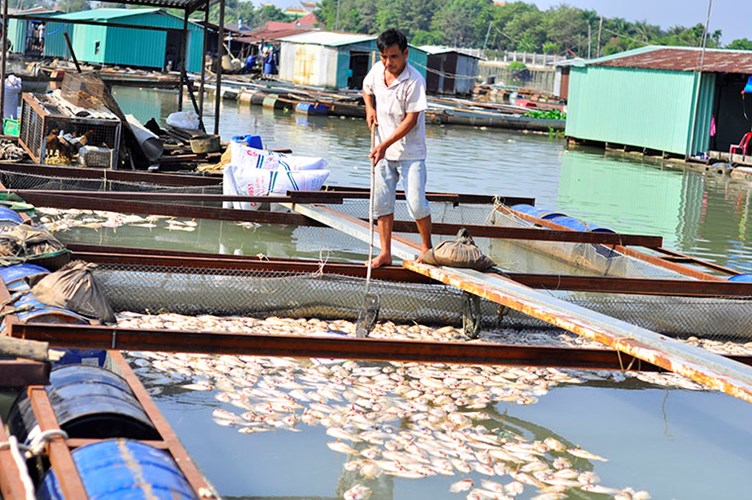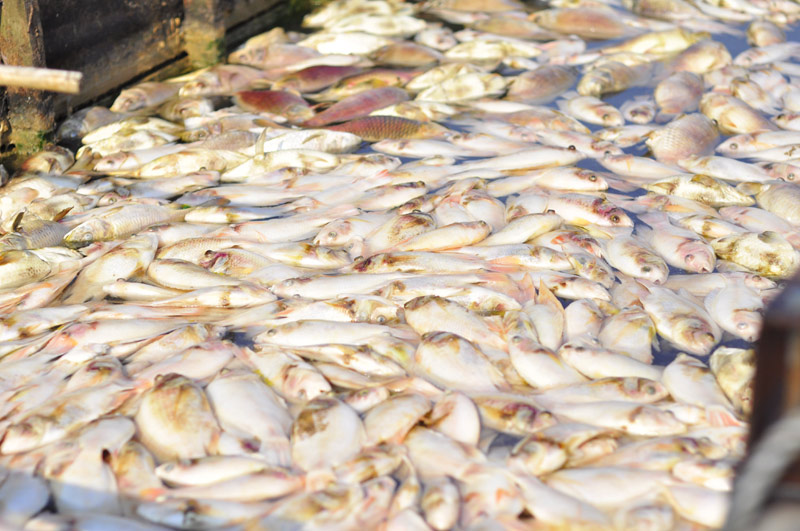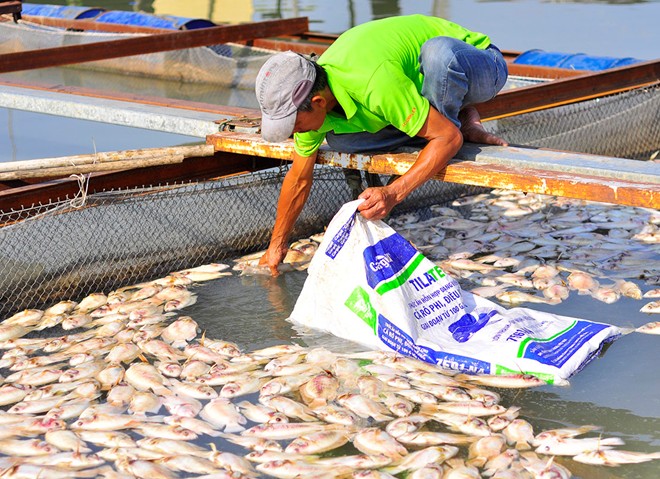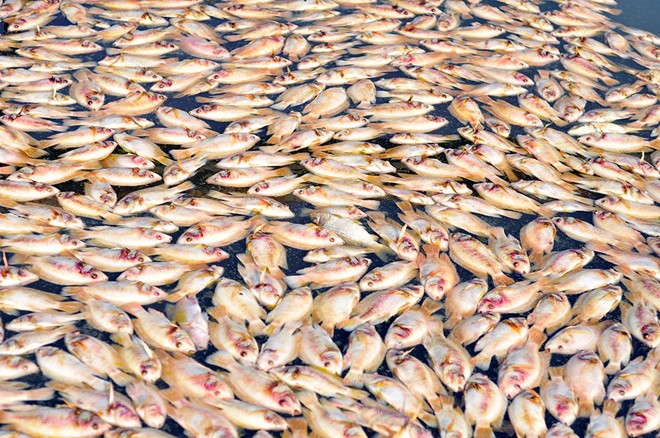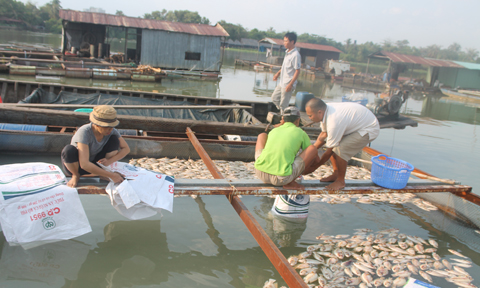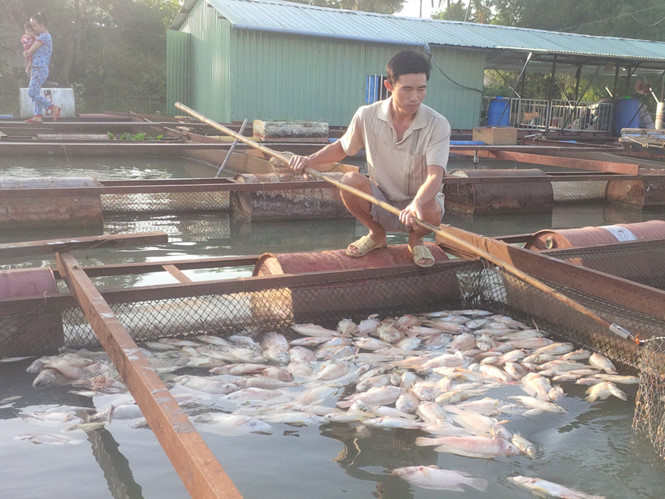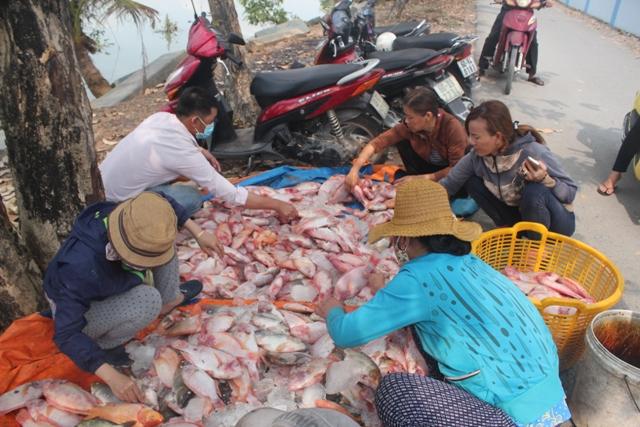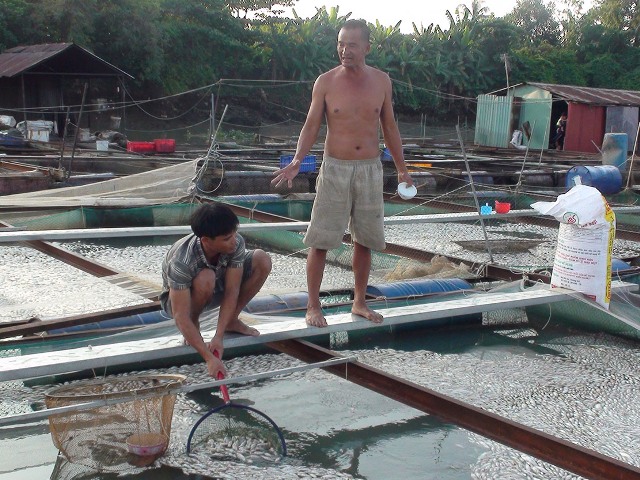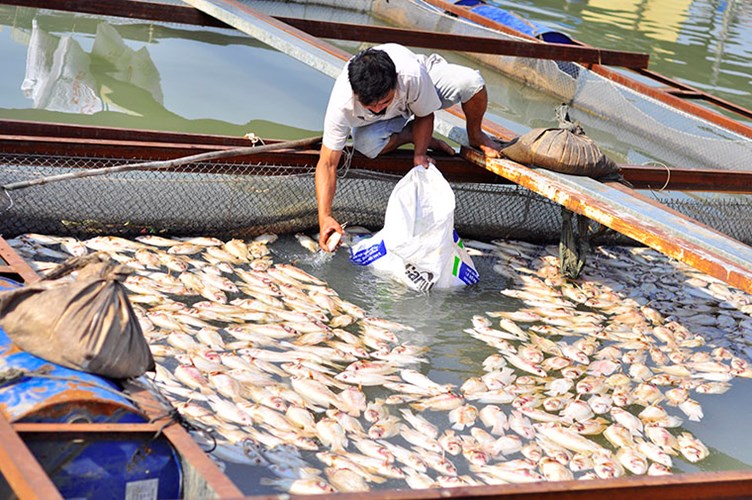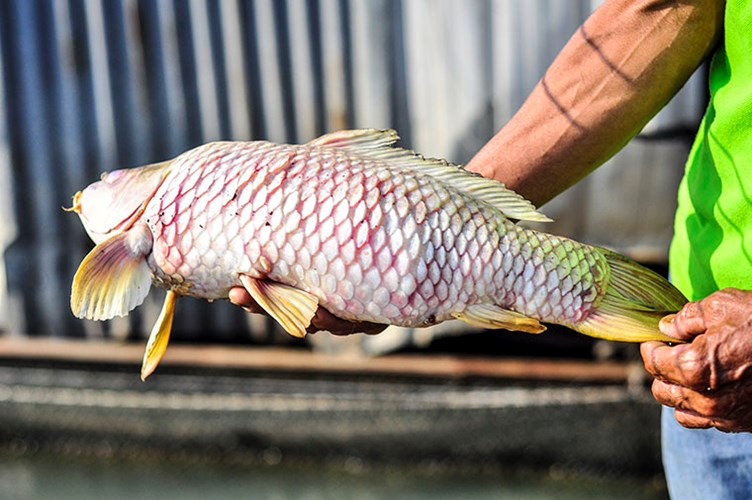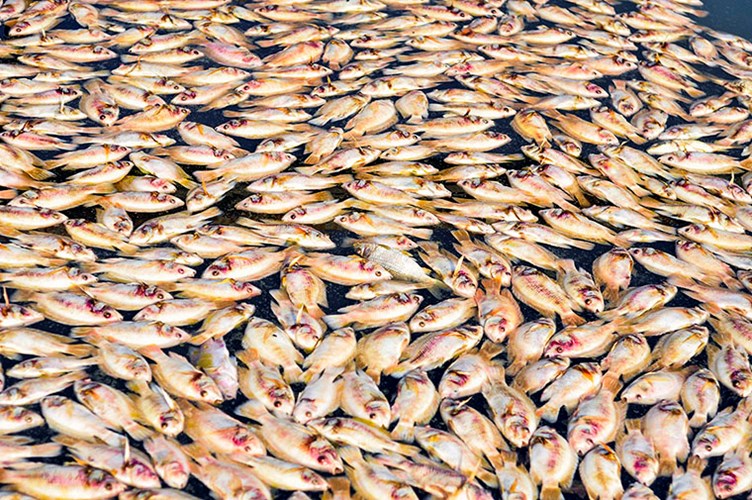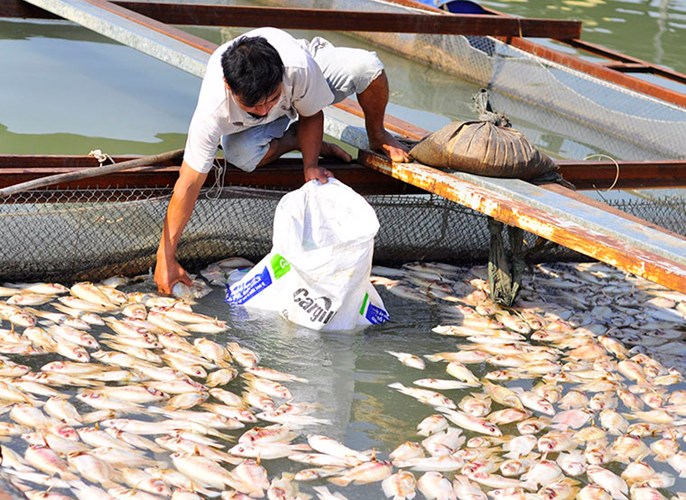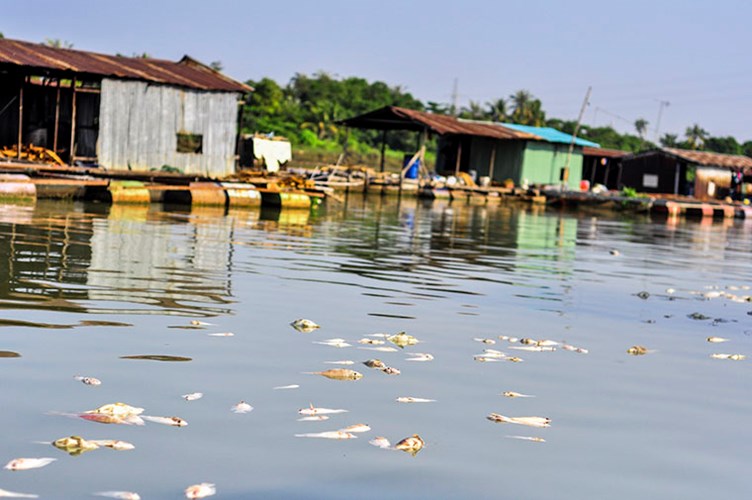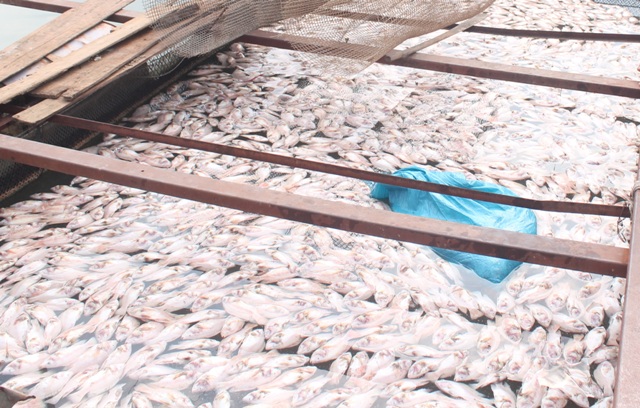 Some fresh fish were sold to pig breeders for VND2,000/kg ($0.1)

The authorities don't have statistics of the volume of dead fish and losses yet.
VNS/Kienthuc.net/CAND/VNN