VietNamNet Bridge – Illegal mining has become a complex issue, especially the toxic chemicals utilised in the process, as they are a serious health hazard for the surrounding neighbourhood.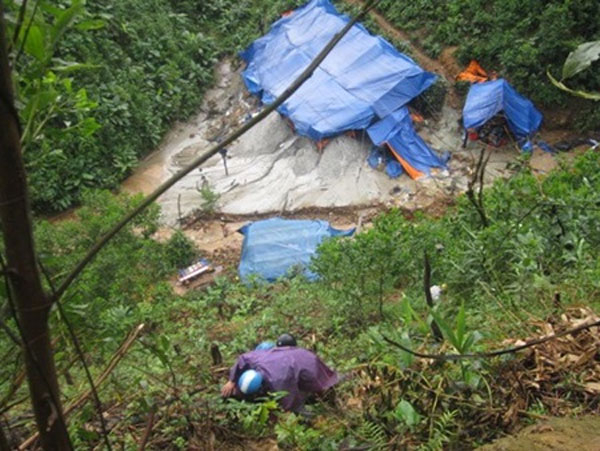 An illegal gold mining operation is caught using filtration equipment in Tam Lanh Commune. — Photo: Truong Hong
Nguyen Van Tho, deputy director of the provincial department of environment and natural resources, said cyanide and mercury are among the toxic chemicals used by illegal diggers to filter gold, and they discharge it directly into the environment.
"If this doesn't stop, the residents' quality of life will be severely affected," Tho said.
Regarding the illegal exploitation of the 365ha Bong Mieu gold mine, which was under the management of Bong Mieu Gold Mining Company, the provincial people's committee had asked the company to tighten protection and inspections of the mines.   
However, the company failed to strictly comply with the province's request as the area is very large and borders many districts with multiple entrances, making it difficult to protect and manage the mines efficiently.
Tam Lanh Commune's Police Chief Nguyen Van Thanh said that the company had not done anything to manage the situation and had refused to ask the local authority for support.
They also failed to transfer the task of managing the mines to the province. As a result, illegal diggers were taking advantage of the loopholes, and many had come to exploit the large area.  
The communal police force was too small to maintain day and night watch in the mountains and forests.  
Thanh said that every day, there are some 200 people illegally mining gold on the mountains. Local police have staged numerous raids in many areas, such as Sim Hill, Kem Mountain, Trang Waterfall, and the adjacent areas. Inspection teams have also permanently locked the entrance to the Bong Mieu gold mine.  
However, the situation has yet to be completely resolved.  
Machines are used in the mining process. Rocks are ground in these machines before being transferred to the filtration equipment, where chemicals such as cyanide and mercury are used to filter out the gold.    
Once the process is complete, the toxic chemicals are dumped in the same area.  
The illegal gold miners are mainly local laborers or people from the surrounding areas. They usually work near deep trenches or on the edges of cliffs, making accidents more likely. When strangers appear, they immediately leave their camps and run up to the mountain's summit to hide.
VNS