VietNamNet Bridge - The Vietnam Coal and Mineral Industries Group (Vinacomin) is going ahead with its plan to build its third third thermopower plant in Cam Pha City, despite warnings about environment pollution and protests from Quang Ninh residents.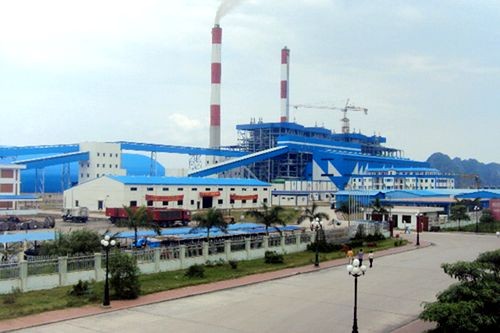 Quang Ninh has a coal mine under exploitation. If the plant is built, this will be the fifth thermal power plant in the small city which is located in the province which has one of the world's natural wonders – Ha Long Bay.
The four operational thermal power plants include two in Mong Duong Ward. One is developed by the Electricity of Vietnam (EVN) – Mong Duong 1 (1,080 MW), and the other by foreign investors – Mong Duong 2 (1,240 MW). 
In Cam Thinh Ward, which is located in the inner city and on Bai Tu Long Bay's shores, there are also two thermal power plants developed by Vinacomin with the total designed capacity of 680 MW. The plants, both built by Chinese contractors, run with low-quality peat and coal dust which produce smoke.
The investors all promised to use high technologies, friendly to the environment, for the power plants. However, Cam Pha residents cannot see the high technologies. Mong Duong Ward is always covered in dust and smoke generated by the power plants. Thousands of households in Cam Thinh Ward have lived in bad conditions for many years. 
According to Nguyen Trong Minh, chair of Cam Pha City People's Council, the slag dumping ground in Cam Pha has become full. Vinacomin has to put slag into an area in Van Don island district.
"We breathe the seriously polluted air every day and we are surrounded by mining sites, thermal power plants and cement plants from all sides," he said.
Trinh Van Cuong in Cam Thinh Ward complained that the existing mining site and cement & power plants alone are unbearable for local people. But Vinacomin still wants to set up another plant right in the central area of the city, expected to have the capacity of 400 MW.
The site where Vinacomin plans to build its third power plant was chosen many years ago. However, the Quang Ninh provincial authorities have recently raised voice against the plant because there are too many thermal power plants in the same locality.
Under Cam Pha City's socio-economic development plans drawn up by international leading organizations, there must not be any thermal power plant to be built in the inner city. Also under the plans, Cam Pha 1 and Cam Pha 2 will have to be relocated to other places in the 2025-2030 period.
NLD