VietNamNet Bridge - From 2008 to 2014, the area of natural forests in the Central Highlands lost over 358,700 hectares, or more than 51,200 hectares annually, reported the General Directorate of Forestry of Vietnam. At the same time, only 1,007 hectares of forest were planted during this time.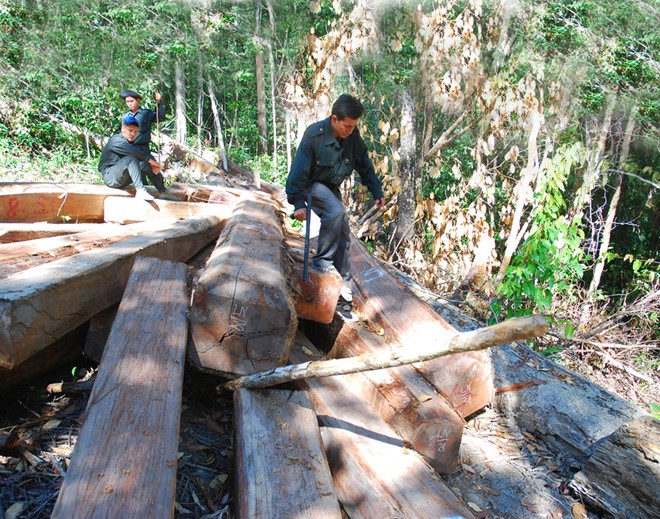 Also, according to the General Directorate of Forestry, the forest coverage rate has fallen over the past 10 years, down to 45.8% (including the area of rubber trees on forest land, while the actual forest coverage is only 32.4%).
Deforestation is getting seriously in the Central Highlands. At the Yok Don National Park in Dak Lak province, many cases of deforestation have been detected from early 2015, with a total of 600 trees cut down in the January-September period. 
Nguyen Huu Thien, Deputy Director of the Forest Protection Bureau, former director of the Yok Don National Park, said that since the government allowed salvage of driftwood in Dak Dam stream in the Yok Don National Park in 2013, loggers have taken advantage of this to legally cut off and transport wood from the national park.
According to the Department of Agriculture and Rural Development of Dak Lak province, in the first nine months of 2015, the province seized more than 500 m3 of timber from loggers.
By the end of October this year, Dak Lak province recorded 1,559 cases of deforestation, seizing 2,680 m3 of timber.
Notably, the highest number of violations are related to the afforestation and rubber plantation projects.
According to the Central Highlands Steering Committee, there are 801 projects to plant rubber forest, totaling 226,000 hectares. Lam Dong has the largest area with 510 projects and over 96,500 hectares, followed by Dak Lak with 105 projects and approximately 44,500 hectares, and Dak Nong with 36 projects and over 10,500 hectares.
Some businesses that are allocated with afforestation projects sold the forest land to others and the land was used for wrongful purposes. 
Recently, Dak Lak authorities imposed fines on a private firm that grew 150 hectares of rubber on the forest area that was planned for other trees and another for planting coffee trees on forest land. A company was found illegally build coal furnaces on the land that it was allocated for afforestation.
Dak Lak authorities said that since 2008, over 26,400 hectares of forests in the province were illegally used by people, mainly migrants. Since 2014, the province has revoked only 827 hectares.
Similarly, since 2010 Dak Nong province has allocated 31,600 hectares of forest and forest land, including over 14,300 hectares of natural forest, to businesses to implement 41 projects. However, nearly 4,800 hectares of natural forest have been destroyed and nearly 8,300 hectares of forest and forest land were encroached.
Experts said that only when the forest owners (individuals or organizations) can live in the forest are they keen on protecting it. They suggested changing the way of management of the forest and the amendments to the Law on Forest Protection and Development and the Land Law.
Linh Nhat