VietNamNet Bridge - Air pollution in HCM City has risen to an alarming level due to carbon monoxide (CO), dust and noise pollution.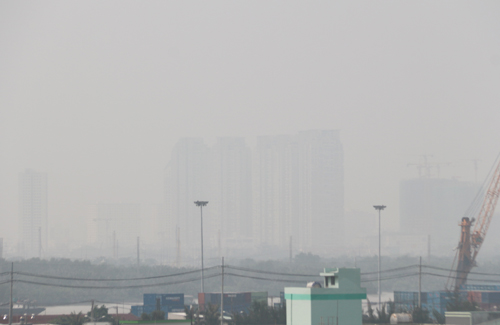 In a report by the Center for Environmental Monitoring and Analysis of the HCM City Department of Environment and Natural Resources, the index of toxic gas CO (carbon monoxide), noise and dust in the air in the city exceeded the figures for 2010-2014.
Air pollution is mainly due to suspended dust and noise from transport activities.
Environmental quality observation data in the 2010-2014 period shows that concentrations of CO in the air were declining. But in the first half of this year the concentration of CO soared in many points like the An Suong Huynh Tan Phat - Nguyen Van Linh intersection, Hang Xanh and Go Vap.
The level of dust in the air was also on the rise. In Go Vap, the average dust concentration in 2014 was 447 micrograms/m3 and the current level is more than 496 micrograms. In particular, at the intersection of Huynh Tan Phat - Nguyen Van Linh, the rate increased from 486 micrograms in 2014 to 613.83 micrograms/m3 in the first half of 2015.
The concentration of dust in the air at the measurement stations was beyond Vietnam standards 1.2 to 2.2 times. Nearly 50% of the monitoring values failed to meet Vietnam standards.
The quality of water also worsened. The indexes of pH (a numeric scale used to specify the acidity or alkalinity of an aqueous solution); COD (chemical oxygen demand) test is commonly used to indirectly measure the amount of organic compounds in water; BOD (Biochemical oxygen demand is the amount of dissolved oxygen needed by aerobic biological organisms in a body of water to break down organic material present in a given water sample at certain temperature over a specific time period). All of these, including salinity, have increased by 50-83% at monitoring points compared to 2014. 
The index of DO (dissolved oxygen in the water needed for the respiration of aquatic organisms) decreased 83% at monitoring points.
"Dust pollution is dangerous in Vietnam, especially benzene, which comes from motorcycle exhaust," Dr. Nguyen Dinh Tuan, former rector of the HCM City's Natural Resource and Environment University, told Tuoi Tre Daily. To improve the situation, Tuan suggested the use of 'green fuel', and urged the establishment of a unit to manage air pollution caused by transport.
Dr. Le Van Khoa, head of HCM City Polytechnic University's Environment Management Department, asked the city to identify all resources that produce air pollution, including industry, construction, energy, service and transportation services and activities.
"All solutions must be included in one detailed strategy with all industries, and with short-term and long-term solutions," Khoa told Vietnam News.
He said it was urgent to use green technology, develop public transport, restrict the use of private vehicles, create more space for bicycles and pedestrians, increase community awareness and set up an urban air information system.
Most canals in the city are polluted with microorganisms and high coliform levels, exceeding Vietnam standards.
Linh Nhat