VietNamNet Bridge – Viet Nam's Law on Forest Protection and Development has become backwards and exposed numerous disadvantages, after more than 10 years of implementation, a senior official from the Viet Nam Forestry Administration (VNFOREST) has said.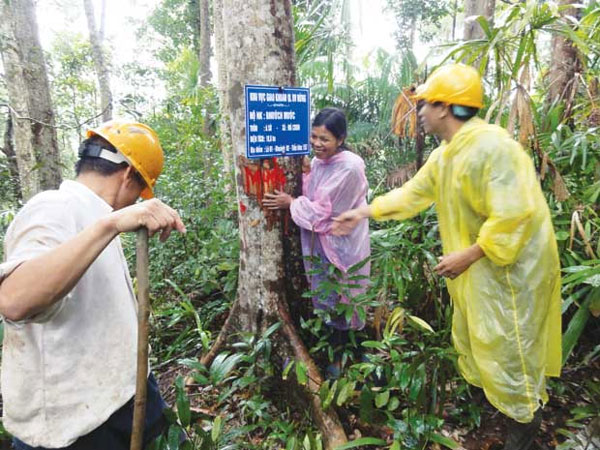 Illustrative image -- File photo
Deputy director of the VNFOREST, Nguyen Ba Ngai, made his comment at a workshop held last week by the VNFOREST, in collaboration with the Forest Land Network (FORLAND).
The workshop reviewed 10 years of working with the forest protection and development law, reported on findings from social organisations and presented recommendations to improve the law.
Ngai said that after 10 years of implementation, the law has helped create a comprehensive legal framework providing convenience for forest management activities, due to which economic sectors have had opportunity to join the national forest protection programme, besides state-owned sector.
He said the law had also helped change the sector's operational goal from mainly focusing on natural forest exploitation to planting and exploiting new forests.
However, the official said during the period the law was put into practice, a variety of regulations have been outdated, ineffective and unable to meet the demands of the nation's economic renovation.
Thus, the law needed to be adjusted, said the official.
The VNFOREST urged the Viet Nam Union of Scientific and Technological Associations, along with other social organisations, to contribute to a proposed Forest Law that would replace the Forest Protection and Development Law 2004.
Meanwhile, Le Van Lan, a FORLAND co-ordinator, said his organisation conducted surveys on forest protection activities in many provinces where local households signed contracts with authorities to plant and protect forest areas and found that those households, in some cases, were not granted a licence for their forest lands.
Lan said, through its survey, the organisation should be more specific to identify tasks and benefits for local households when they signed contracts to participate in forest protection and management.
He further pointed out some disadvantages of the law, saying that some issues, such as forest allocation regulations, did not fit with communities; limitations and problems in the legal allocation of groups of households; allocations that were not integrated with land allocations; delayed completion of grants; renewal of certificates of land use rights of forest people; and no consistent benefit policies for management and protection.
He presented five recommendations for the new Forest Law, including more specific and efficient regulations on co-operation among sectors of the environment, resources and forestry in granting forest land ownership licenses to individuals and communities.
The new law should include rights for local people to participate in handling forest law violations on their forest land, Lan said.
The FORLAND representative also recommended a common financial support to communities when participating in handling forest law violations.
Meanwhile, Vu Long, an expert on forest policy making, suggested the State provide a tax reduction or exemption for households to exploit natural forest areas that have been under their protection for more than 10 years.
Long said this exploitation should be approved by local people' committees.
This was considered to be an encouragement for households to increase their participation in forest protection activities in their localities and improve their living conditions.
Dr Nguyen Chi Thanh, director of the Centre for Forest and Wet Land, said the new forest law should include concrete regulations on the participation of other economic sectors, particularly private sectors in forestry activities, to turn the forestry sector into an economically viable industry.
Thanh suggested that there should be a separate chapter on forest investments, which includes specific regulations for certain investment areas that were not banned in forest protection, development and exploitation.
VNS