VietNamNet Bridge - Many wild animals discovered in trafficking cases have died at rescue centers because of the delays caused by complicated provisions in the 2013 Criminal Procedure Code.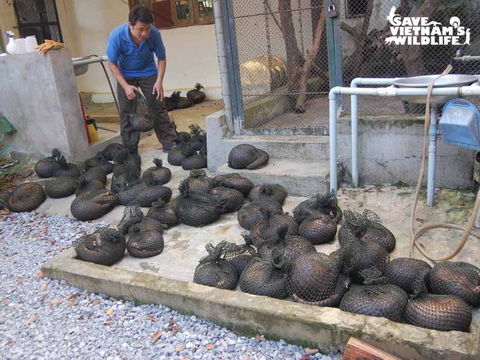 In August, more than 60 pangolins were saved from illegal wildlife trafficking cases. Among the pangolins cared for at Save Vietnam's Wildlife Center, 70 pangolins met health standards to be released back into the wild.
However, the police and forest rangers' units in the provinces of Thanh Hoa and Ninh Binh did not agree to release them into the wild until the cases were settled and competent agencies make decisions on seizing the exhibits in these cases.
Article No 76 of the 2003 Criminal Procedure Code stipulated that the handling of physical evidence must be done by investigation agencies. If the cases are suspended during the investigation, this is to be decided by people's procuracy. 
If the cases are suspended in the prosecution phase, the courts of judge councils will make a decision. 
This means that the wild animals seized in trafficking cases must be kept as exhibits in these cases. In other words, wild animals can only be released to the wild after the cases are settled. 
However, it takes a long time to conduct the investigations and handle the cases. As a result, wild animals have died at the agencies where exhibits were kept or at rescue centers.
Save Vietnam's Wildlife has proposed to the Supreme People's Procuracy and the National Assembly's Legal Committee to amend the Criminal Procedure Code provisions on the preservation of evidence. 
It said that the exhibits which include living wild animals are endangered wildlife and were seized in trafficking cases. 
The animals must be released into the wild or transferred to rescue centers after agencies build up files on the animals (names, species, numbers of individuals) and place their images in files.
Two pangolin species - Manis javanica and Manis pentadactyla - are listed as endangered wild animals which need the highest protection level.
Pangolins are hunted to satisfy the high demand for meat and skin from rich Vietnamese and Chinese buyers.
According to Tran Quang Phuong from the carnivorous and pangolin conservation program, the two pangolin species in Vietnam eat termites and ants. It is very costly to feed them as the food alone costs VND98.7 million a month to feed 70 pangolins.
Pangolins like living separately. If more than one pangolin is put into the same cage, they die because of stress. The conditions at rescue centers are not good enough to take care of pangolins for a long period of time.
VnMedia