VietNamNet Bridge - The protective forests in the southern province of Tra Vinh which died because of insects' attack, sea wave hit and deforestation have been revived.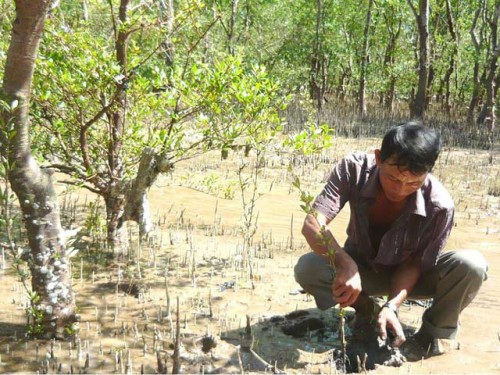 The forestland areas which were once deserted in the past have been covered by vast green forests. Trees have been re-planted, working as the protective shield which protects people and houses from strong waves and brings great benefits to thousands of locals.
Nguyen Van Tram, a local man Duyen Hai district, who has been living close to the forests for the last 30 years, said that the forests have been revived under a state-funded afforestation policy.
Tram said after many years of replantation and protection, the protective forests in coastal areas of Tra Vinh now can work as the 'green walls' which prevent raging waves and feed people.
The households in Phuoc Thien Protective Forest in Dong Hai commune confirmed that the replantation program has helped push strong waves back.
They said in 1989, many trees there were knocked down by strong waves, while houses were often inundated when raging sea wave attacked. But things are different now.
"The distance between the sea and our houses is long. We are protected by the forests with the density of 300-1,000 meters and the trees with the height of over 10 meters," said Le Van Tam, a local man in Dong Hai commune about Phuoc Thien Forest.
"The 'green wall' not only helps prevent from erosion but also help farmers feel secure to organize production," he said.
Tran Van Tai in My Long Nam commune of Cau Ngang district said that since the day the forests were revived, aquatic resources have also been recovered. Tai calls the aquatic resources 'the gift from the Forest'.
Son Thi My Huong from Hoa Thinh hamlet of Cau Ngang district said her family has been living on the aquatic resources in My Long Forest for the last 12 years.
"My husband and I go to the forest everyday to catch fishes and crabs," she said. "Every of us can earn VND80,000-120,000 a day".
Kieu Phuong, also in Hoa Thinh hamlet, said My Long Forest has been feeding his family over the last 15 years. 
"The aquatic resources allow us to earn enough money to feed our three children and send them to school," he said, adding that more than 100 other households have also been living on the resources.
"As the forest gives us food, we have the responsibility of protecting it," he said.
According to the provincial Forest Rangers' Unit, under the forest restoration projects funded by non-government organizations, 7,720 hectares of coastal protective forests have been recovered. More than 4,000 hectares of forests have been allocated to 3,000 households for protection.
Dan Viet