VietNamNet Bridge – Deforestation is on the rise in the Central Highland province of Dak Nong's Dak Song District.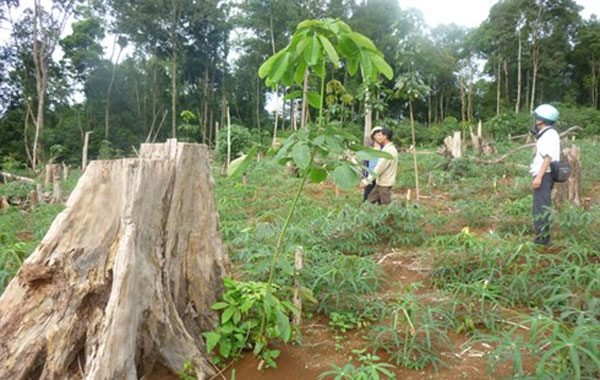 Illustrative image -- File photo
More than 30 cases have been detected and tackled since the rainy season started in May, the local forest management authority said.
The 40-year-old protective pine forest along Highway 14 covers a total area of 430ha. So far more than 50 per cent of the forest has been lost due to severe deforestation, which is increasing at an alarming rate, an official said.
Nguyen Van Thinh, head of the Dak Song Forest Ranger Unit, said Dak Song District has become a hot spot for cutting down trees for cultivation purposes.
In early August alone, the district forest rangers detained four men who were caught cutting down pine trees so they could bury poles to grow black pepper in Dak Lep Village. Nguyen Van Tam, 45, who employed the men, denied that he hired them for deforestation but failed to answer questions about the poles' purpose. The case is still under investigation.
Most recently, Dak Song District's rangers detected a man drilling and pouring chemicals into pine trees to kill them gradually in Dak Lep Village on August 29. A motorbike and drilling tools were seized.
Since the beginning of 2015, Dak Song authorities have prosecuted four cases of deforestation and forest land encroachment, and consolidated documents to prosecute seven other cases.
The Dak Song District People's Committee has asked all local people to support forest management authorities as they work to protect the remaining forests, Thinh said.
An inter-agency team was established to strengthen patrols and detect encroachment cases early on, the official added.
VNS