VietNamNet Bridge - The northern province of Dien Bien has lost 22,000 hectares of forests. Dien Bien residents say they are tired of fighting the battle against deforestation caused by migrants.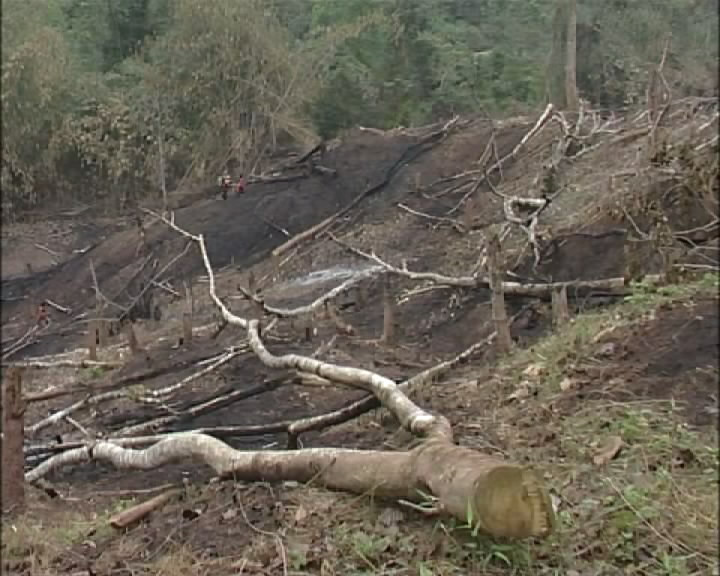 Sung Go Long, head of Phu Ma hamlet of Lenh Su Sin commune in Muong Nhe district, said Phu Ma is the homeland of 49 Ha Nhi ethnic minority households who have been living close to the forests for many years. In 2011, a new hamlet – Ca La Pa – was set up nearby, becoming a new settlement area of 36 migrant households. 
The number of households in the new hamlet has reached 350. Lacking land for cultivation, the migrants have been felling trees and clearing forestland. Phu Ma's people were assigned to protect 1,000 hectares of forest, but now there are only 350 hectares left.
"Previously, they felled trees concealed, but now they do it in the open air," Long said. "They came to see me at my house and threatened to beat me if I continued to prevent them from chopping trees down."
Lo Van Thanh, head of the Muong Nhe district's Forest Rangers Unit, pointing to bare land ahead, said: "We are worn out in the fight against the deforestation."
There are only 22 forest rangers in the district, and each of them is in charge of 5,000 hectares of forest. Under the current regulation, each forest ranger has to take care of 500-1,000 hectares only.
A report shows that Lenh Su Sin commune had over 11,000 hectares of natural forests in 2010, but now there are only 8,000 hectares left. 
Ma Cong Sit from Phieng Kham hamlet noted that if the local authorities had been determined to dislodge the migrants out of the forests as soon as they began felling trees, the forests would not have been so seriously damaged.
According to Thao A De, deputy chair of the Muong Nhe district People's Committee, 478 hectares have been lost since 2013.
However, old reports that agencies kept as archives show that the forestland area decreased from 88,000 hectares in 2010 to 72,000 in late 2014. This means that the locality lost 16,000 hectares of forest just within five years.
It is uncontrolled migration which has caused serious deforestation. A Muong Nhe district's report released in July 2015 showed that Muong Nhe had 33,000 residents in 2012, but is now 38,000. 
Dien Bien is one of the localities suffering the most from natural disasters in this year's hurricane season. The flood on July 31-August 1 alone caused  damage worth VND174 billion.
Tin Tuc