VietNamNet Bridge – The rate of illegal deforestation in the central highlands province of Gia Lai has become alarming.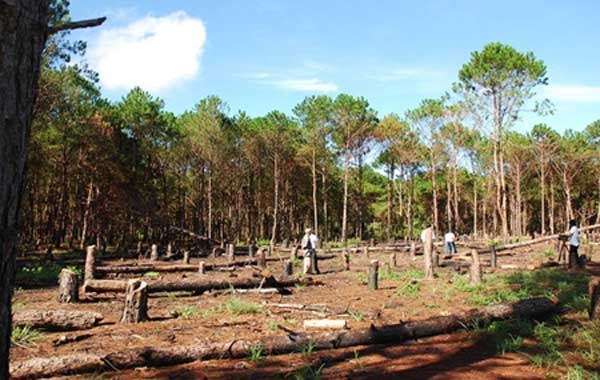 Illegal logging has destroyed hundreds of hectares of pine forest in Gia Lai Province. — Photo baogialai.com.vn
A Lao Dong (Labour) report yesterday (August 10) that hundreds of hectares of pine forest in Dak Doa and Mang Yang districts had been cleared to plant crops.
Nguyen Thiep, a resident from Mang Yang District's Dak Djrang Commune, said the cleared land was mostly used to plant peppers.
The residents not only use saws and axes to cut the trees down, but they also kill them by chopping into their bark and letting the sap run out, the report said.
Huynh Van Binh, another resident, said people had not only cut trees down and encroached on forest land step by step, they had also sold some of the land to other people.
He added that they destroyed the trees night and day unperturbed by passers-by.
To try and enforce their claims to the cleared land, some people build barbed wire fences around patches of land growing pepper, coffee and passion fruit, Thiep said.
Despite efforts by authorities, more and more trees were felled every day while the forest gradually shrank, the report said.
A farmer in Tan Phu ward said she bought 6,000 square metres of deforested land from her neighbour without any authorised paperwork.
"I burned all the dead trees and am preparing to grow pepper plants," she told Lao Dong newspaper.
Many people want to buy similar cleared forest land, the report said, adding that while the illegal removal of trees had existed for many years, prevention measures were inefficient. Replanting and recovery work was also limited.
In 2013, the provincial forestry management department asked staff and the head of forestry management team in Mang Yang district to review their approaches to deforestation and land encroachment.
However, deforestation is still occurring openly, but the head forest ranger in Mang Yang district, Nguyen Long Son, was quoted as saying that currently, there was no problem about tree destruction.
Truong Phuoc Anh, director of the provincial agriculture and rural development department, has called on concerned agencies to clarify the situation.
VNS