VietNamNet Bridge - The Da Nang City People's Committee has approved the Phu Loc River environmental restoration project, which will include gardens and parks on a concrete plate covering built over the river.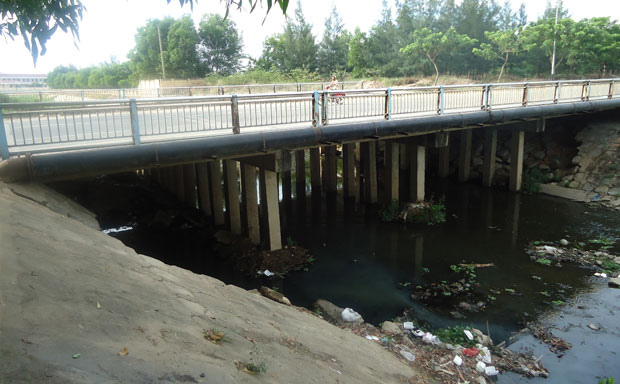 Phu Loc river, winding through residential areas, was once a great pride of Da Nang. Nguyen Van Dang, 70, said many people liked going to the river banks to enjoy the fresh air and have physical exercise. 
However, they stopped doing this 10 years ago, when the river began getting polluted.
The Phu Loc Water Drainage Station of the Da Nang Water Drainage Company discharges substandard waste water into the river. Many local residents have to sell their houses and move to avoid the pollution.
Though the project has been approved, the Da Nang City Architects Association still has voiced concern about the plan.
"It is a good idea to build parks and gardens alongside the river banks. But it is necessary to treat the polluted water of the river first," said Pham Phu Binh, deputy chair of the association.
"But it is unreasonable to put concrete covers on a river section and then build gardens above," he said. "This will make it more difficult to control the pollution."
Binh said the most important task for now was treating the polluted water.
"The landscape will be improved with gardens and parks. But if the water is not treated, the problem will not be settled to the very root," he said.
An analyst who asked to be anonymous said that Da Nang did not intend to treat the polluted water before building parks.
"It is necessary to consult with experts and environmentalists on the solutions of the polluted Phu Loc river water," he said.
"It is necessary to create a blue, clean and lively river where fish can live. You will not be able to settle the problem if you simply put a lid on the river," he said.
The analyst said the polluted river brings dirty water to the sea and spoil the beautiful beaches in the locality, thus affecting the local tourism industry.
Da Nang's Union of Science & Technology Association is also against the project, saying that the existence of the concrete plates with the total area of 14,476 square meters will lead to the narrowing of the surface water area that receives sunlight, despite the proposed air vents.
Dat Viet