VietNamNet Bridge – Vietnam should make full use of financial aid from international donors to adapt to climate change, experts said at a conference on climate change adaptation and disaster risk management in HCMC on Monday.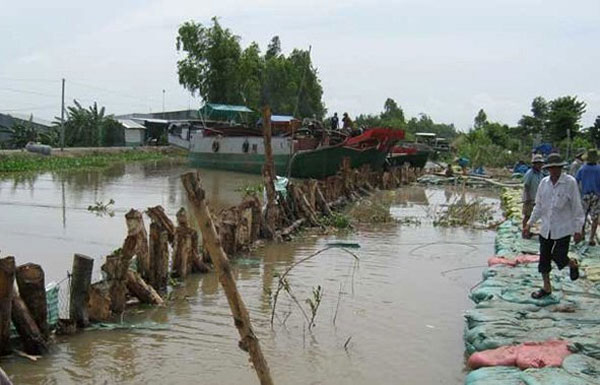 Farmers in the Mekong Delta province of An Giang build a dyke to protect their paddy fields from floods in this file photo. Experts say the Mekong Delta is one of the world's five most vulnerable regions to climate change – Photo: Huynh Kim
Experts at the conference organized by the Asian Development Bank (ADB) pointed out negative impacts of climate change on Asian countries and discussed coping solutions.
Vo Le Phu, deputy head of the Environment and Resources Department of HCMC University of Technology, told the Daily on the sidelines of the conference that many organizations and countries have provided funds for climate change adaptation programs.
Therefore, Vietnam should use these funds effectively to develop infrastructure in localities vulnerable to climate change.
Dao Xuan Lai, head of the Sustainable Development Cluster of the United Nations Development Program (UNDP), said as Vietnam became a middle-income nation as categorized by the World Bank (WB), concessional loans for the country are in decline. But low-interest loans are still available for the country to take out to implement climate change programs.
According to ADB, Asian cities such as Manila, Bangkok, Yangon, and Vietnam's Haiphong and HCMC face high risks of sea level rises, flooding, and other climate change impacts.
Ancha Srinivasan of ADB said more natural calamities hit the Asia-Pacific region between 1963 and 2012, with stronger typhoons which were unpredictable and left more serious damages.
Drought has become harsher and a case in point was the recent drought in parts of Vietnam that pushed temperatures higher than 40 degree Celsius on some days. Three storms were spotted in the East Sea.
Experts said the Mekong Delta is one of the world's five most vulnerable regions to climate change and sea level rises.
To deal with the situation, the Ministry of Agriculture and Rural Development plans projects to build embankment systems at coastal localities in the delta and lakes to store fresh water for use in the dry season.
Experts proposed Vietnam call for foreign organizations and governments to provide support, either concessional loans or grants, for those projects.
In 2008, ADB established the Climate Change Fund (CCF) to support developing countries in Asia. In Vietnam, CCF has funded Phuoc Hoa Water Resources Project in Binh Phuoc Province as well as flood and drought risk management in Tien Giang Province.
SGT