VietNamNet Bridge - Ten cases of forest devastation and arson were discovered in 2014 and the first six months of 2015 in the central city of Da Nang.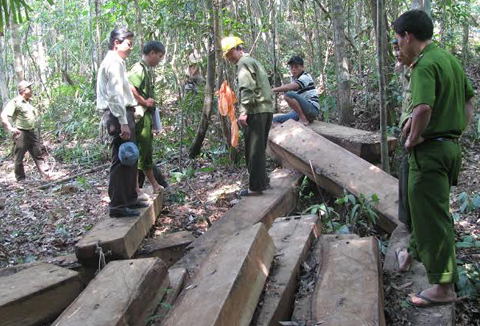 The devastation at the Ba Na – Nui Chua special-use forest and other deforestation problems dominated discussion at the 14th Da Nang City People's Council meeting held on July 9.
Ta Tu Binh, a member of the people's council, asked to clarify the responsibility that foreign rangers must take for deforestation in ward 15 of Hoa Bac Commune in Hoa Vang District and other deforestation cases, including the most serious that happened in the Ba Na – Nui Chua special use forest.
Le Van Luong, head of the Da Nang City Forest Rangers' Unit, admitted that 10 deforestation cases occurred in 2014 and the first six months of 2015.
Regarding the Ba Na – Nui Chua case, 154 cubic meters of kien kien (Dialium cochinchinensis) disappeared, while the case caused a total loss of VND4.2 billion. 
This included the loss of VND700 million in forestry products and the VND3.5 billion loss of the special use forest.
Understanding the seriousness of the case, the Da Nang Forest Rangers' Unit reported the case to the city people's procuracy and people's committee. The case has been put into prosecution.
Also according to Luong, 11 people have been put into temporary detention, including two Da Nang forestry officials and nine people in Quang Nam province. The Da Nang Forest Rangers' Unit has suspended 10 officers.
The police, when pursuing illegal loggers at the Cu De River protective forest, located in the area between Hoa Vang and Lien Chieu districts, unexpectedly discovered deforestation in Hoa Bac Commune as well.
Tran Tho, the Da Nang City's Party Committee Secretary, expressed his deep concern about the rapid-fire deforestation in the locality, saying that three deforestation cases within six months was "unacceptable".
"Forest rangers' unit is set up to protect the forests, but forests continue to be devastated," he noted.  "Where were forest rangers when illegal loggers devastated forests?" 
Da Nang's people also said they could not understand why illegal loggers could devastate the forest on such a large scale, and use many machines in the open air and for a long time.
Some of them said that forest rangers themselves may have helped illegal loggers.
"They (the illegal loggers) could only have smoothly devastated the forests – the Ba Na – Nui Chua, the forest in Ward No 15 and the Ward No 10 - if they got support from forest rangers," a local man in Hoa Vang District said.
VTC