Although biological gasoline E5 does not harm the environment and its consumption has been widely promoted in seven provinces for more than seven months, customers have not yet changed their habit of using traditional gasoline while petrol stations do not seem to be interested with E5 bio-gasoline trade either, due to poor consumption.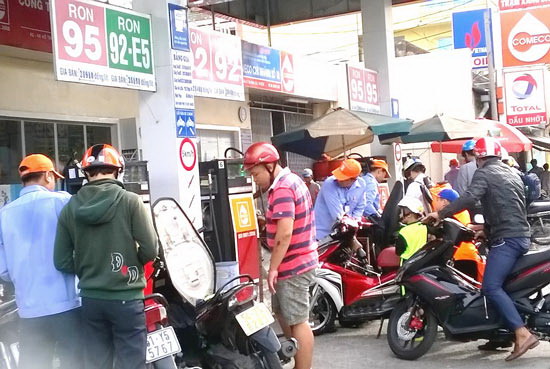 Although standing in front of E5 bio-gasoline pump, most customers fill up their vehicles with A92 or A95 gasoline.
According to the plan, since December 1, 2014, biological gasoline E5 will be produced and sold in seven provinces and cities, comprising of Ha Noi, Ho Chi Minh City, Hai Phong, Da Nang, Can Tho, Quang Ngai, and Ba Ria – Vung Tau, and will be used nationwide since December 1 this year. However, despite seven months have passed, customers still neglect this eco-friendly fuel.
In Ho Chi Minh City, there are many petrol stations having started to sell E5 bio-gasoline, however, it requires high attention to recognize which pump is of E5 bio-gasoline. Observing at the petrol station at 70 Truong Dinh Street in District 3, there were tens of motorbikes and cars stopped by the station for gasoline filling within 40 minutes but one of them stopped in front of the E5 pump.
Mr. Tran Ngoc Thoi, an employee of this petrol station, said that his station sells thousands liters of gasoline every day, however, sales of E5 bio-gasoline is very low. Customers rarely ask for biological gasoline, some even do not know of E5 bio-gasoline.
At the petrol station at 40-42 Vo Thi Sau Street in District 1, the situation was not brighter. Although it was peak time and several people were waiting for gas filling, the E5 pump still saw fewer customers than other pumps. Customers lined up to wait for filling of A92 and A95 gasoline instead of E5 bio-gasoline.
Ms. Tran Thi Anh Thu, a resident in Go Vap District, said that she had heard of E5 bio-gasoline but she did not know where this kind of gasoline was sold as most petrol gas stations only sell traditional gasoline. She shared that it would be inconvenient if her motorbike ran of out gas unexpectedly at a place where there is no E5 petrol station so she had better use traditional gasoline.
Meanwhile, Mr. Tran Minh Thien, a resident in Vung Tau City, said that despite the Government encouraged people to use biological gasoline, he and his family have not shifted to green fuel as the prices of A92 and E5 gasoline are not much different so they prefer to use the kind of gasoline that is more familiar to them.
Not only customers but also petrol businesses are not interest with this green fuel.
In Ho Chi Minh City, according to the plan, there would be 115 more petrol stations distributing E5 bio-gasoline by June 30 this year, and the rate of petrol stations participating in this plan will reach 100 percent by the end of this year. Nevertheless, in the first four months of this year, there were only 53 petrol stations selling E5 bio-gasoline in the city. The consumption of E5 hit 21,057 cubic meters, merely accounted for 2.8 percent of total gasoline consumption here.
A survey by the HCMC's Department of Industry and Trade showed that most customers still keep their habit of using traditional gasoline instead of switching to use E5. Meanwhile, petrol stations neglect this eco-friendly gasoline because of slow consumption which leads to high inventory for a long time, causing high loss rate, affecting their profits. In addition, E5 is a new product, which is different from other gasoline in the market, that will make businesses' sales expenses rise. In addition, it is difficult to control quality.
Similarly, up to now, there are 58 out of 124 petrol stations that sell E5 bio-gasoline in Ba Ria – Vung Tau Province with consumption in the first four months of this year at 5,487 cubic meters.
Earlier, the People's Committee of Ba Ria – Vung Tau Province instructed that all public vehicles in the province have to use E5 bio-gasoline. However, after implementing this instruction for a short time, chief judge Nguyen Van Co of the province's People's Court, in late-March sent a document to ask for not to continue using E5. He said that using E5 bio-gasoline will damage vehicle's engine, easily causing unexpected breakdown.
The representative of the provincial Department of Industry and Trade said that consumers have not got accustomed to E5 bio-gasoline and they are afraid of using it because they have not known its features. Therefore, E5 bio-gasoline has been consuming slowly.
 Experts said that consumers have not been provided with adequate information that they still think that using E5 bio-gasoline will damage their vehicles. Moreover, the price of biological gasoline E5 is not attractive enough. E5 bio-gasoline is currently sold at VND20,050 per liter, not much cheaper than the price of A92 gasoline which is sold at VND20,380 per liter. In addition, until now, there are not many of E5 petrol stations. Hence, even consumers want to use E5 bio-gasoline, it is hard for them to choose it.
The Government should have a policy, such as tax reduction to encourage petrol companies to promote production and trade of eco-friendly gasoline E5. The Government should also lessen the amount of A92 gasoline in the market so that the plan to use green gasoline E5 on a large scale will not fail again.
 E5 bio-gasoline is a mixture with 95 percent of biological A92 and 5 percent of ethanol.  Ethanol is absolute alcohol, extracted from biological products, such as: corn and cassava. As ethanol has high octane number, when mixing with gasoline it will raise the octane number of the mixture, accordingly, increase the compression the fuel can withstand before detonating and improve engine power. Especially, biological petrol E5 does not cause pollution.
SGGP