VietNamNet Bridge - Hundreds of precious perfumed trees (Pterocarpus macrocarpus) in Chu Mom Ray National Park have been felled. Local authorities knew nothing about the incidents until they were informed by media.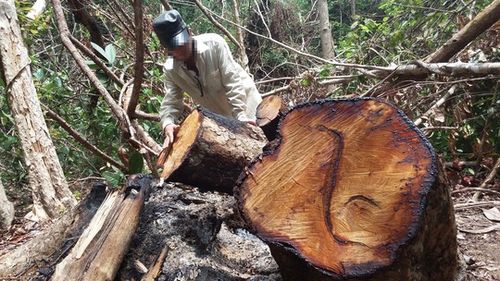 Bui Thanh Binh, chief secretariat of the Kon Tum People's Committee, on June 17 said he would ask for permission from provincial authorities to conduct an inspection tour to Chu Mom Ray National Park to clarify the news about deforestation provided by Nguoi Lao Dong reporters.
The illegal logging of perfumed trees in Ja Book Valley of Chu Mom Ray was snapped by a local resident. The pictures showed big trunks partially burned lying on the ground. The logs were burned by illegal loggers in an attempt to destroy evidence.
On June 16, T, a local resident, together with reporters, following a newly opened road came to the site. Reporters saw about 50 big felled trees after they traveled about 500 meters. 
The trunks had been taken away, and there were only branches left. The red resin was still leaking and the leaves still wet. The guide said the trees were felled about one month ago, while the stumps were burnt one week before. Some stumps still produced smoke.
"The illegal loggers have left the stumps and logs, while trying to burn them to clear the traces," the man said.
"The traces will disappear just after some rains," he said. "Even if the police come there, they will not discover anything."
On another road, large enough for cars, reporters could see tens of perfumed trees felled. 
"Just a few years ago, when I came here, I could see many ancient trees," T said.
But what reporters saw only several small valueless trees.
Before leading the reporters to the jungle, T said everyone should wear beautiful clothes to go through the check-point in Dak Ro Ngao. People in working clothes will be prevented.
T was right. In smart clothes, the reporters were allowed through the check-point, the Dak Tao Forest Protection Station and Ro Koi frontier post.
The site where felled perfumed trees was found was somewhere between the Ro Koi frontier post and Ja Book Forest Protection Station, about one kilometer from the frontier post and 300-400 meters from the Highway No 14C.
T said it is very difficult for people to enter the forest to get wood of low quality because of the strict control of officers at checkpoints. Therefore, he cannot understand why illegal loggers can go into the forest and chop down trees.
NLD