VietNamNet Bridge - Landslides in the Mekong River Delta have depleted natural resources and damaged many houses.
Landslides in Mekong River Delta getting worse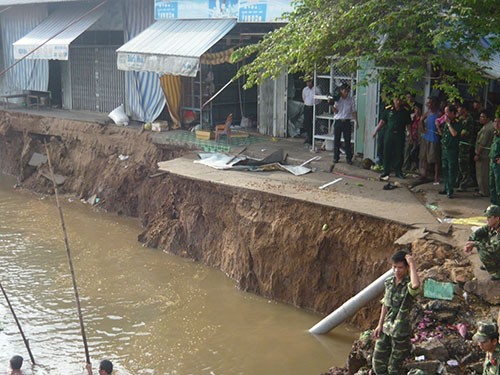 Part 2: Delta does not have enough money to prevent landslides

Landslides are becoming more serious, but the works needed to prevent landslides are not making progress.
An Giang province is one of the most landslide-stricken areas in Mekong River Delta. However, the solutions applied in the locality are not helping much.
The provincial department of natural resources and the environment conducts periodic monitoring and other necessary works to give warnings about the time of landslide time and consequences. 
However, the works are carried out periodically only twice a year, in June and December. Landslides occurs in the locality very often.
An official of the department noted that measurement and assessment of the state of the riverbed are only carried out if landslides occur. Actions to repair damages are taken, but the measures to prevent damages are not.
Ha Tan Viet, head of the Soc Trang provincial Irrigation Works and Anti-flooding Sub-department, admitted that it is nearly impossible to forecast landslides.
"In previous years, we usually checked the landslides' vulnerable points before the rainy season came. However, the landslides later occurred in other places," he said.
Experts pointed out that the uncontrolled illegal sand exploitation is also a "culprit" that causes landslides. 
The overexploitation not only exhausted natural resources, but also leads to changes in the river current, thus causing serious erosion.
Local authorities, though well aware of the necessity of taking urgent measures to prevent landslides, cannot do what they want because of the lack of money.
Nguyen Quy Ninh from the Can Tho City People's Committee said the plan on preventing the landslides in the city was approved in 2010, or five years ago. 
The city's agricultural department also drew up the estimates on projects to build embankments to prevent floods. However, they have never been carried out because a lack of budget.
There are about 2,200 households in An Giang living in landslide-vulnerable areas. Many of them lost their houses in previous years due to landslides. 
However, the province has still not allocated funds to build houses. Local authorities ask central authorities for financial support to help people settle down.
Viet from Soc Trang noted that the building of embankments and planting mangrove trees which are being carried out in the locality should be seen only as temporary measures that prevent landslides for two to three years. 
Lao Dong