VietNamNet Bridge – The People's Committee in the northern Hung Yen Province on June 4 held a meeting to discuss urgent solutions to deal with serious lead poisoning in Dong Mai craft village.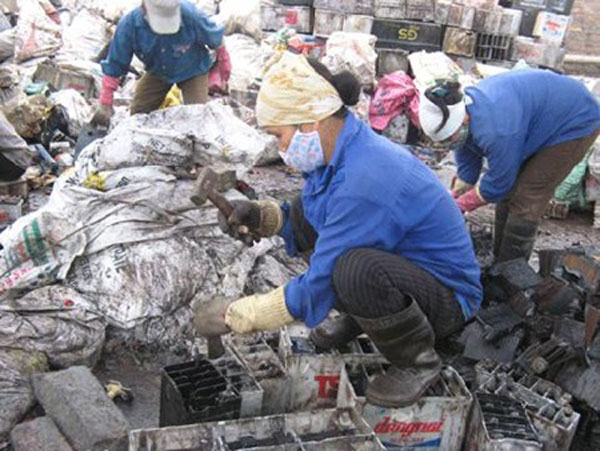 Workers destroy waste batteries to extract lead in Dong Mai craft village. — Photo suckhoedoisong.vn
The results of a survey conducted by local authorities show that the percentage of lead in soil, groundwater and water bodies exceed permitted levels, posing a serious threat to the health of the local residents.
Medical tests conducted on 335 children in Dong Mai village revealed that 207 have high concentrations of lead in their blood.
At the meeting, representatives of the departments of environmental resources, industry and commerce and science and technology suggested several urgent measures to deal with the situation.
The officials said 13 households involved in the manufacture and recycling of lead and those living in residential areas close to an industrial complex of handicraft villages have to be shifted.
All hazardous solid waste in the residential areas should be removed, the officials said.
They said the inspection and monitoring of lead recycling need to be increased, the environmental impact in production bases controlled and plans set up to improve the soil, water and air quality in the village.
Health checks and guidance about methods to treat excess levels of lead at local health centres would be prioritised to cope with the situation, a health official said.
On the other hand, land contaminated with lead will be identified and treated.
The province also needs to have a long-term plan to create jobs for local residents to encourage them to give up the work of recycling of lead.
Vice Chairman of the People's Committee Dang Ngoc Quynh asked Van Lam District to review the production licences of lead-recycling units in Dong Mai village and take strong measures to stop their operations.
VNS