VietNamNet Bridge - Much of Vietnam's agricultural land has become contaminated because of the abuse of pesticides and fertilizers, and the cost to revive it could be high.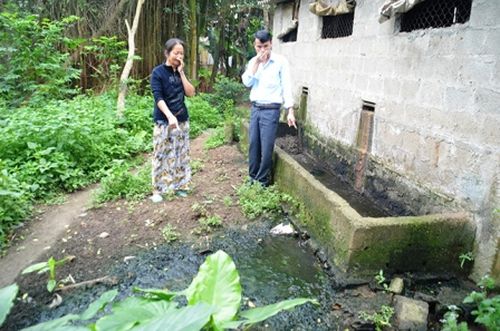 Scientists said that the agriculture sector should prioritise curbing this abuse, which has also polluted the environment and reduced cost-efficiency of agricultural production,  emphasizing that effective use and control of pesticides was crucial for the agricultural sector to boost exports in 2015..
According to the Ministry of Agriculture and Rural Development (MARD), the import of plant-protection chemicals has increased dramatically. 
In 2005, Vietnam imported 20,000 tons of the chemicals, but the figure soared to 50,000 tons in 2014. 
There are 20,000 pesticide sales agents and 97 pesticide processing factories which produce 40,000 tons of products a year.
As for fertilizer, the used amount has soared by 500 percent since 1985. About 10 million tons of fertilizer are used a year.
An FAO report showed that fertilizer use efficiency in Vietnam is low, just 45-50 percent, meaning that it is actually absorbed by the soil. The remaining 50 percent is washed away, which damages the land. Some kinds of fertilizer have acid residues, which acidify the land, leading to lower yields and higher toxicity in the soil.
Hoang Duong Tung, deputy director general of the Environment Directorate General, said that agricultural production produces 9,000 tons of hazardous agricultural waste, most of which are plant protection chemicals, including prohibited ones with high toxicity.
Tung also warned of the danger from 50 tons of pesticide left at dozens of storehouses throughout the country and 37,000 tons of chemicals which have been seized and kept at storehouses.
Vietnamese farmers, who remain unaware of the influence of chemicals, have the habit of throwing away pesticide packages after use instead of collecting packages for treatment.
The packages are listed as hazardous waste, Tung said.
The World Bank estimated that the losses caused by pollution in Vietnam could be up to 5.5 percent of GDP every year.
Meanwhile, analysts said that land pollution has become more serious, which means that Vietnam will have to spend more money to ease pollution and revive soil for production.
The measures applied to stop chemical abuse have not helped much. An analyst commented that it is wrong to target institutions (enterprises, cooperatives) only and ignore individual farmers. 
The farmers, who are the biggest users, still lack information about how to use chemicals properly.
Tung noted that in developed countries, the government gives financial support to farmers to protect the environment. However, the policy is not applied in Vietnam.
ANTD