VietNamNet Bridge - The biggest bamboo museum in Vietnam is a garden leaning against Son Tra Mountain in the central city of Da Nang, developed by Monk Thich The Tuong.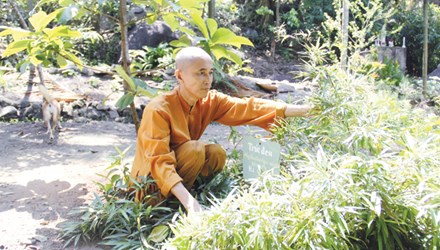 Monk Thich The Tuong, 49, from Thua Thien – Hue province, has been traveling over the last over 10 years to find different bamboo species and bring them to his garden in Son Tra District in Da Nang City. 
Son Tra peninsula is a fragile gem in the sea city of Da Nang. Son Tra is a beautiful peninsula with long, white sandy beaches, picturesque landscapes and primeval forests – a must-see for any tourist in Vietnam.  
More than a half of the bamboo species are growing in the garden, which covers an area of one hectare.
Monk Thich The Tuong decided to develop the garden because he feared that with rapid urbanization, the Vietnamese of the next generations may not see bamboo, fish pond and village entrance gates – the symbols of the traditional Vietnamese countryside.  
The three first bamboo trees the monk grew in his garden were tre bung phat (Bambusa vulgaris), tre lo o (Bambusa balcooa) and giang Son Tra (Son Tra neohouzeaua) which he brought from a neighboring province. These were trees chopped down for site clearance to make room for construction works.
The trees revived very rapidly, which encouraged the monk to develop a bamboo museum. He then traveled to many places all over the country and brought back many bamboo species. 
The monk said there are 110 bamboo species, or half of the total found bamboo species in his garden. Son Tra's people noted that the monk's garden bears the Vietnamese spirit because nearly all bamboo species symbolize different areas.
There are many rare and precious bamboo species in his garden, from truc den (Phyllostachys nigra) which is named in Vietnam's Red Book, to truc Hoa Long (Phyllostachys aurea).
The monk does all the work himself in the garden. Sometimes he returns home empty-handed, because he could not find the bamboo species he wanted. Before leaving home to look bamboo in certain localities, he was sure the species would be found. However, the trees had been cleared before he arrived.
He said he hopes his garden can help retain the precious Vietnamese bamboo species for future generations. He also hopes the garden can serve as a "shield" to protect Da Nang from natural calamities.
"Bamboo has very strong roots. They can help protect soil," he explained. "If bamboo is grown together with native trees, the resistance against landslides will be better."
Tien Phong