VietNamNet Bridge – The Ministry of Science and Technology in collaboration with the UN Development Program (UNDP) has launched a project to enhance the production and use of non-fired bricks in Vietnam.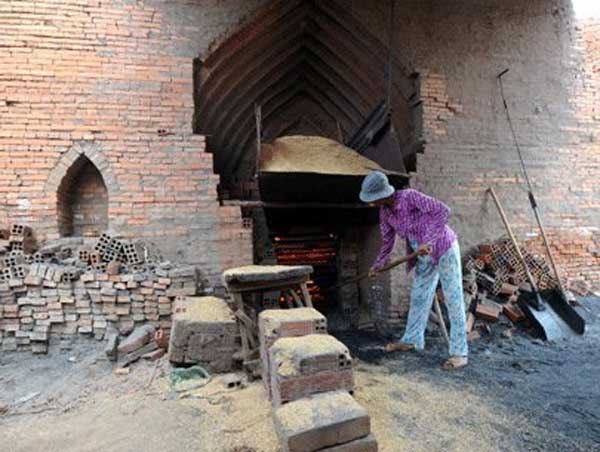 Illustrative image -- File photo
The US$2.8-million project is funded by the Global Environment Facility through UNDP and implemented by the ministries of science-technology and construction.
According to UNDP, economic growth and rapid urbanization have led to significant growth in the construction and building materials market in Vietnam. The building sector is projected to grow at about 8% a year in the next ten years, with the increasing demand for building bricks.
However, fired clay bricks still account for over 80% on the local market. Thousands of traditional brick kilns nationwide are burning coal and taking soil from agriculture land to produce these bricks, causing adverse environmental impacts.
Therefore, the "Promotion of Non-Fired Brick Production and Utilization in Vietnam" project has been in place to help increase the production, sale and utilization of non-fired bricks. This will displace the use of fossil fuel and good quality soil for brick making, thus helping reduce the greenhouse gas emission of at least 383,000 tons of carbon dioxide after five years of implementation.
The project is expected to remove barriers from production and the use of non-fired bricks and support the implementation of the Non-Fired Bricks Development Program, which was approved by the Prime Minister in 2010. The goal of this program is to increase the market share of non-fired bricks to 25% in 2015 and 40% in 2020.
UNDP Country Director in Vietnam Louise Chamberlain hailed the Government's commitment to transform the building material market and encourage greater use of non-fired bricks.
"Introducing green construction materials means creating more green jobs and income from sustainable economic activities," she Chamberlain. "This helps reduce the greenhouse gas emissions - an extremely important contribution to a greener development path."
SGT