Scientists have proposed the establishment of a state company specialised in storing radioactive waste ahead of the construction of two nuclear power plants in Ninh Thuan province.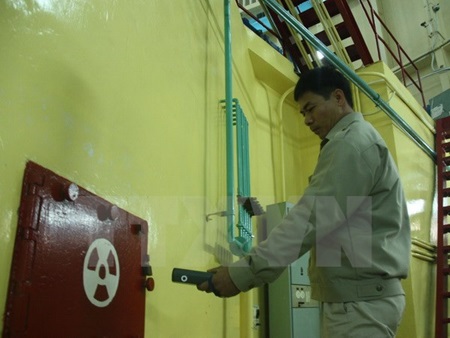 The radiation density is measured at Da Lat nuclear reactor in Lam Dong Province.
The proposal on radioactive waste management was one of the key issues discussed at the three-day second Nuclear Regulations Conference that ended yesterday at Da Lat City in central highland province Lam Dong.
More than 400 national and international scientists and experts, including those from the International Atomic Energy Agency (IAEA), attended the conference.
Stressing the importance of radioactive waste management, scientists noted that it is a crucial step to be taken before Ninh Thuan nuclear power plants become operational, especially as Viet Nam lacks a specialised unit to monitor radioactive waste.
Viet Nam currently has only two agencies to store radioactive wastes, one of them is the Radioactive Management Unit of the Da Lat Nuclear Research Institute, said Nguyen Nu Hoai Vi, Director of the Nuclear Control Division of the Viet Nam Agency for Radiation and Nuclear Safety.
The other agency is Ha Noi-based Centre of Radioactive Wastes Management, in addition to four other storage for used radioactive materials located in different units.
However, the two agencies and four storage units do not take in radioactive wastes from outside, leaving the other units that use radioactive materials to make their own arrangements to collect and keep their waste.
"If those outside units cannot make a deal with material provider countries to take back wastes after use, they will have no choice but to keep such wastes at their make-shift storage," said Vi.
"As such storage is not specially designed to keep radioactive wastes for long, it poses a serious threat to the national safety and security."
As there is a shortage of specialised storage for radioactive wastes, the number of units demanded for radiation input has been increasing.
Deputy Minister of Science and Technology Tran Viet Thanh said that the number of licenses granted for work involving radiation purposes has been increasing on average 10 per cent a year.
In Viet Nam, radiation is widely used in the agriculture sector; the country has been ranked eighth by the IAEA for the application of radiation in creating genetically modified crops.
Along with x-ray operators and other specific units, the total number of operations using radioactive materials across the country stands at 803, according to the Viet Nam Agency for Radiation and Nuclear Safety's statistics.
Nearly 1,800 sources of radioactive materials are currently in use, while another 1,400 out-of-use sources are kept in both qualified and make-shift storage.
Nuclear scientists and experts at the conference agreed on the need to establish a state company that will be in charge of collecting, transporting, storing and burying radioactive wastes.
That company will also do researches to develop procedures for the dismantling of closed nuclear power plants in the future. 
VNS