VietNamNet Bridge – Biomass energy has emerged quickly in Vietnam, with interest in the energy source – which is ripe with potential - from both local business communities and the Government, according to Nhip Cau Dau Tu (Business Review) magazine.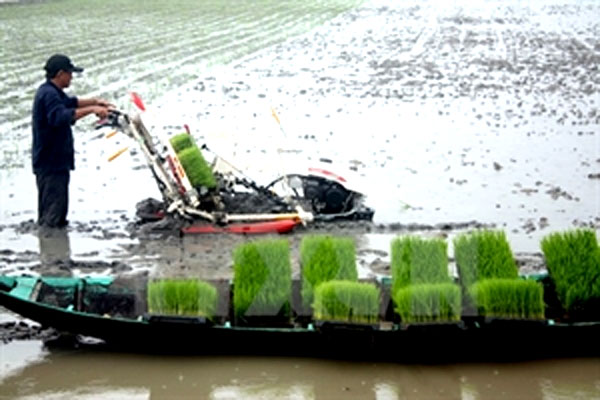 A farmer plants rice seedlings. About 6.8 million tonnes of rice husk are discarded in Vietnam each year (Photo: VNA)
Increasing European and Japanese demand has provided the sector with the stimulus it needs to start thriving in Vietnam, where about 6.8 million tonnes of rice husk and 5.8 million tonnes of sawdust are discarded each year and can be used to generate power.
A local enterprise buys processed sawdust at 500,000 VND per tonne (23 USD), compressing them into blocks and selling them overseas for up to 270 USD per tonne.
The prices sound profitable but still fall short of potential due to the lack of Forest Stewardship Council (FSC) certification, which ensures products come from responsibly managed forests that provide environmental, social and economic benefits. The Vietnamese exports equipped with adequate certificates can earn up to 400-500 USD per tonne.
In fact, only 600,000 tonnes of sawdust are annually exported.
Recently, the sector has seen a sight of development as some investors are willing to pour a great deal of money to cooperate with forest planters in a bid to qualify for FSC criteria.
Domestically speaking, sawdust has partly been used to replace fossil fuels in industrial production. The switch from coal and FO oil to sawdust can cut cost by more than 50 and 70 percent, respectively.
According to the Handicraft and Wood Industry Association of Ho Chi Minh City (HAWA), if Vietnam utilises 2.5 million tonnes of sawdust as domestic combustible material, the nation will reduce its imported oil volume by 1,000 litres.
Meanwhile, construction has been launched at a state-funded thermo-electric plant running on rice husk in the Mekong Delta province of Hau Giang, the first of its kind in Vietnam.
Every year, the Mekong Delta, the country's largest rice granary, throws away more than 5 million tonnes of rice husk into regional channels and ditches. Every day, the future thermo-electric plant is estimated to consume some 250 tonnes of husk, maximising the use of rice production by-products to protect the environment, generate additional profit and jobs for locals. As nothing goes to waste, discarded matter becomes material for the making of high-quality cement and heatproof objects.
After the 31-million-USD Hau Giang plant, 19 similar facilities will be built across the country, including another four located at the same region.
VNA