Senior Government officials have acknowledged that a skewed vision of development has severely degraded the natural environment and called for urgent remedial measures to stem the rot.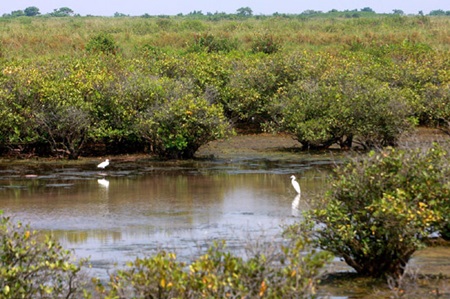 A corner of the mangrove forest, which is rich in biodiversity and provides a habitat for wide varieties of animal and plant species, in Nam Dinh Province's Xuan Thuy National Park. Biodiversity conservation is an effective response to climate change, an official said. 
"In the past years, we were too focused on developing the economy, and neglected environmental protection and biodiversity conservation," said Deputy Minister of Natural Resources and Environment Bui Cach Tuyen.
"This improper view led to insufficient measures to manage and conserve biodiversity, and increasing impacts of climate change are directly affecting it (the country's biodiversity)."
The nation's flora and fauna were facing the pressure of changing habitat and frequent natural disasters, he said.
More than one-third of 286 key natural landmarks and 46 biodiversity conservation areas in Viet Nam will be under serious threat if the sea-level rises by one metre, underscoring the importance of tackling climate change impacts.
This dire warning was reported by the Vietnam News Agency yesterday, citing the Viet Nam Institute of Meteology, Hydrology and Climate Change under the Ministry of Natural Resources and Environment.
The report also quoted Deputy Minister Tuyen as saying biodiversity conservation would be an effective response to climate changes.
He said afforestation and managing forests were important solutions to reduce greenhouse gas emissions. Mangrove forests can help mitigate the impacts of storms and rising sea levels.
Tuyen also said that the country's biodiversity has severely degraded because of population growth, overexploitation of natural resources and uncontrolled migration. It continues to be under threat, he stressed.
Direct causes
Pham Anh Cuong, head of environment ministry's Biodiversity Conservation Department, echoed Tuyen , saying the direct visible causes for biodiversity degradation in Viet Nam included environmental pollution, degraded and fragmented habitats and invasive alien species.
Illegal hunting of wild animals has pushed many of them to the edge of extinction and consequently placed higher pressure on the survival other species, he said.
In 2010 alone, the Forest Protection Department seized over 34,000 tonnes of illegally-traded wild animals.
In some northen provinces, medicinal plants have been overexploited for export. The overuse of explosives, toxins and electricity threatens more than 80 per cent of seaweed and coral areas in the country.
Cuong also noted that decades-long deforestation for commercial timber and replacement of natural forests with industrial trees like rubber were also destroying the nation's biodiversity.
Over the last 50 years, Viet Nam has lost 80 per cent of its mangrove forests. Between 1943 and 2005, at least 220,000ha of mangrove forests have disappeared, mostly to make room for aquaculture production.
Revitalisation efforts
The VNA report also quoted Nguyen Minh Quang, Minister of Natural Resources and Environment, as saying Viet Nam was improving its legal framework and policies to promote biodiversity conservation.
The Cuc Phuong National Park was founded in early 1960s when the country passed its first legal document on biodiversity conservation, he said.
Biodiversity conservation is also included in key laws including the 1991 Law on Forest Protect and Development in 1991, the Land Law, the Law on Environmental Protection and the Law on Water Resources.
Quang said that the Law on Biodiversity Conservation passed in 2008 was a milestone as it was the first time that the country was regulating principles and incentives for all parties including Government, localities and communities, for conserving the country's biodiversity through benefit-sharing mechanisms.
The Ministry of Agriculture and Rural Development developed a set of national criteria for sustainable forest management in 1998, he noted.
The number of forestry companies granted certificates by Forest Stewardship Council International (FSC) - a tool to accredit sustainable forest management based on international standards - increased from one to 100 companies between 2007 and 2015.
Furthermore, the Prime Minister in 2013 approved a National Biodiversity Strategy until 2020 with vision extending to 2030, which identified biodiversity as a fundamental element of a green economy and biodiversity conservation as one of the key measures to adapt to and mitigate impacts of climate change.
Quang emphasised the need for improved public awareness and joint efforts in biodiversity conservation activities.
To observe the World Biodiversity Day, which falls on May 22, his ministry has been promoting communication with the larger community, especially young people and enterprises, to initiate for effective joint efforts, Quang said. 
VNS