VietNamNet Bridge – Buddhist bikku (monk) Thich The Tuong has been working hard to turn his one hectare farm into a bamboo conservatory on the Son Tra Mountain, which protects over 110 bamboo species.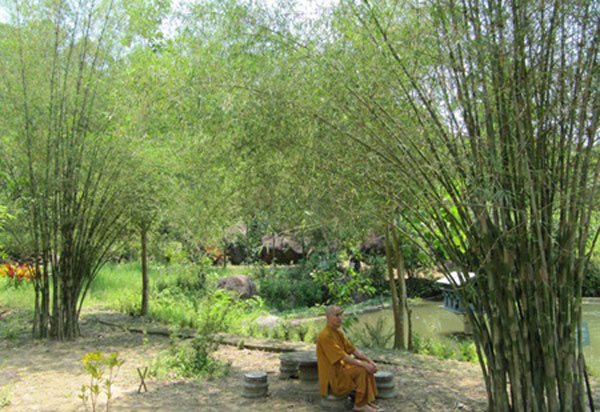 Rare plants: The bamboo garden, which is located on Son Tra Mountain, is free for all visitors. Bamboo groves are being replaced throughout Viet Nam and the plant is not as common as it once was.
Of these, four are almost considered extinct in Viet Nam.
The garden, located on the Son Tra mountainside, eight kilometres from the city centre, is open to all visitors, who wish to see bamboo conservation in a rural setting, along with a fishing pond and a stone installation.
"It has been a long and hard journey since I planted the first bamboo. I have loved gardening since I left my native village of Vy Da to enter religious life at a small pagoda in Con Hen in Hue," said Tuong.
"I left the pagoda after my master died and found the Quan The Am Pagoda in Da Nang to continue my religious life.
"The garden was donated by a farmer in Son Tra after he became too tired to plant any trees. I worked the land and grew different bamboo species that I had collected from different provinces," he recalled.
"I have collected a third of the total 300 bamboo varieties in Viet Nam. Bamboo plantation has grown over the past decade, dotting the sloping hills of the Son Tra Mountain."
He said he had named the garden Son Tra Tinh Vien (Son Tra Tranquil garden).
Bamboo, religion
The 48-year-old monk said he had settled down in the area and started looking after the garden as he wanted to continue with his religious work and preserve the bamboo gene at the same time.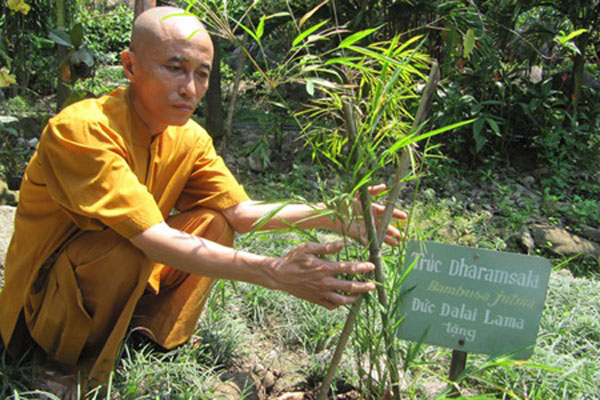 Tranquil: Buddhist bikku Thich The Tuong works at the bamboo conservation garden on Son Tra Mountain. — VNS Photos Cong Thanh
"I studied literature at HCM City's Social Sciences and Humanities College, so I found a connection among bamboo, literature and Buddhism," he explained.
"The Bamboo garden is my effort to preserve nature on the Son Tra Mountain, which has been recognised as a nature reserve. It would help protect the evergreen peninsula in the tourist city in the future," he said.
"Bamboo has inspired me to compose poems and literature, as well as lead a religious life. I have also created a tranquil corner in the garden for religious meditation," he said.
The monk added that the existence of the bamboo garden follows his life as a Buddhist.
Four bamboo species are listed in the Red Book of Viet Nam, include the Truc den Ha Giang (Phyllostachys nigra Munro); Truc Hoa Long (Phyllostachys); Truc Vuong (Chimonobambusa quadrangularis); Tre Mien Nam (Sirocalamus aff latiflorus McClure). All have been growing well in the garden.
Le Thi Thoa, an ex-student of biology and environment at the Da Nang's Teachers' Training college, said the garden was a full of a collection of bamboo genes.
"I spent two years working on a thesis on bamboo, and the garden was my approach for research. The monk assisted me considerably in my study of bamboo," Thoa said.
"It is a precious garden of bamboo genes in Viet Nam as bamboo forests on the riverheads have been over-exploited or destroyed. Bamboo is rare in villages as the local people prefer to grow cash crops or profitable plants," she said.
Thoa, who is a teacher at a junior secondary school in A Luoi District of Thua Thien-Hue, said she had proposed the idea of growing bamboo in environmentally polluted areas in Da Nang.
"I had read a document saying that bamboo reduces the content of dioxin in soil or air. Other plants cannot grow because of the chemical contaminating the air or land, but bamboo can develop well anywhere," she said.
The 25-year-old teacher said the development of more bamboo conservation centres would help protect valuable sources of flora and their genes in Viet Nam.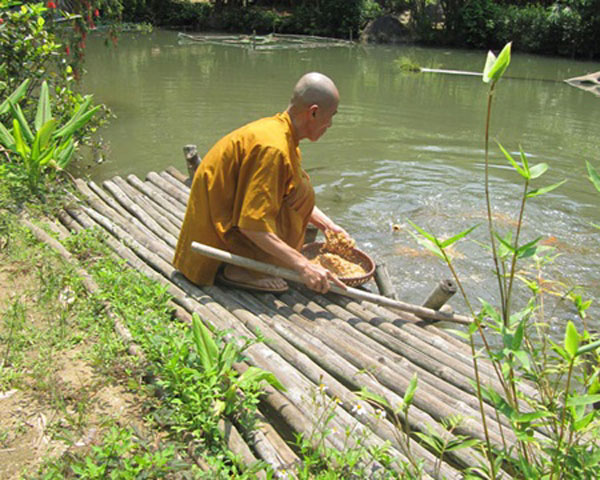 Meditation pool: The bamboo garden and surrounds are a perfect place for meditation.
"Bamboo also plays a role in biodiversity, along with other plants. It is a source of food for animals in the forest. Bamboo can slow down heavy floods in riverheads and smooth downstream flows," said Nguyen Thi Tinh, a biologist from the Frankfurt Zoological Society of Germany.
"Land for bamboo in rural villages has been reserved for easy money farming or urban development. So, the ever green plant has gradually disappeared," she said.
She said bamboo was also symbolic of the vitality and powerfulness of Vietnamese culture and its people.
The monk said he had brought species from Japan, Thailand, India and Africa, whenever he visited these countries. "Bamboo can be grown as bonsai in a family garden or can be sold in the market. People just think bamboo is for construction of cottages, but it can be a source of craft in rural areas," he explained.
"Bamboo is also be used a raw material for production of bamboo charcoal-based toothpaste or tooth brushes in China and Korea," he said.
The monk is worried that he will not be able to preserve the garden as the city plans to convert the farm into a tourist resort.
"I had proposed better alternatives for the bamboo conservatory, but the city's departments or agencies are yet to respond," he said.
"The directorate of the private Duy Tan University had asked me to move the garden to the university village as a field research project for students. However, I am still hesitant as I am waiting for a decision from the city authorities regarding the garden," he said.
"I will devote the garden to Da Nang as it could promote the city as a bamboo conservation centre in Viet Nam," he said.
The garden is a favourite photography spot for young people on the weekends, since it is still rare to find a precious genes garden of bamboo in the central region.
Hoai Nam
VNS