VietNamNet Bridge - Workers at the Dak Lak Elephant Conservation Center in Yok Don National Park describe themselves as 'elephant-minders', and say that caretaking of the animals requires the patience and endurance required to take care of young children.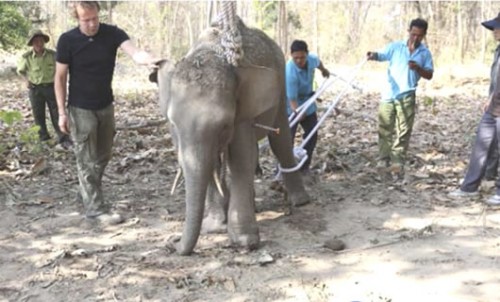 As it is now peak dry season in Dak Lak province in the Central Highlands, the scorching sun is causing fatigue for the animals. The workers at the elephant conservation center are still treating a three-year-old wild male elephant, weighing 500 kilos, which was seriously injured in the foreleg and trunk.
Nguyen Huu Thien, director of Yok Don National Park, said the workers had a hard-working Tet holiday as they had to bring the wounded elephant to the center for treatment.
Thien said if the elephant had not been found, it would have died.
"Wild elephants always go in groups. However, wounded elephants lag behind and are left in the middle of the forest," Thien said.
"As the elephant's trunk was wounded, it could not eat," he said.
The plan to rescue the elephant was implemented on the eve of New Lunar Year (February 2015). The rescuers discussed possible solutions and finally decided to carry the elephant to the conservation center.
"We spent a sleepless night to be sure the elephant stayed in the same place," Thien said. "We began moving the elephant the next morning when it was still dark so as to avoid the people's curiosity and to be sure that it would not be threatened by vehicle noise."
"Wild elephants are always aggressive. And they would be even more dangerous when they get wounded," he explained.
Pham Van Vuong Quoc, a worker at the center, said there were still many things to do.
"It is very difficult to heal the elephant and feed it," he said.
According to the Dak Lak Elephant Conservation Center, the number of wild and domesticated elephants in the locality is declining in the area. 
A report shows there were more than 550 wild elephants in 1980, but the figure has dropped to 70-80. Seventeen elephants have been killed since 2009. There were 502 domesticated elephants in 1980, but now there are only 48.
Pham Van Lang, deputy director of the Dak Lak Elephant Conservation Center, said the decline has been dramatic, and the situation would be even worse if no measures had been taken to protect the elephants. 
Meanwhile, the Dak Lak provincial elephant conservation plan has made no headway.
CADN