VietNamNet Bridge - Ho Van Du, the owner of Ngoc Linh ginseng garden, and former deputy head of an herb center, is called the "ginseng King". He governs a sky-high area.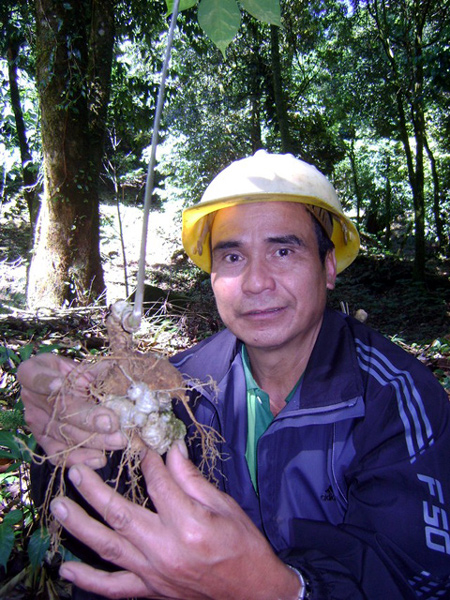 Du now has 6.5 tons of ginseng. Assuming that he could sell them for VND40-50 million, his assets are valued at VND250 billion. The gardener says that 20 ginseng plants can provide one kilo of ginseng. 
The Ngoc Linh ginseng (Panax vietnamensis) garden is located on a mountain nearly 1,000 meters above sea level.
Ngoc Linh belongs to the Panax family. Natural Ngoc Linh ginseng grows at the altitude of 1,200 meters and higher, under the canopies of old forests. 
To date, Ngoc Linh has been found only in two provinces of Kon Tum and Quang Nam.
It is a herbaceous perennial plant, 40 cm to 1 meter high. At first glance, it looks like Korean ginseng, but scientists can easily tell the difference between Ngoc Linh and false ginseng thanks to the notches on the roots.
There in the mountainous area of Quang Nam province, the Xe Dang ethnic minority people say it is a panacea for all kinds of problems. 
In 1960s, the Xe Dang village patriarch used Ngoc Linh ginseng to cure revolutionary soldiers who were wounded when there was no medicine for them. 
Thousands of people who had malaria and many other serious diseases recovered thanks to the medicinal herb.
The ginseng was discovered by Dao Kim Long, a pharmacist, in 1973, after many years of searching. Long called the ginseng "K5", or Ngoc Linh ginseng.
"Thirty years ago, the medicinal herb grew in the vast mountainous area of Ngoc Linh. One could easily find the ginseng in many places. But the herb is gradually disappearing because it is hunted by people for commercial purposes," said Ho Van Reo, a village patriarch in Tra Linh Commune.  
As natural Ngoc Linh ginseng is disappearing, local people are trying to grow the ginseng on their farms. 
Under local authorities' support, a Ngoc Linh medicinal herb center has been established, where the precious plant is protected and developed.
Du said he spent 35 years conducting research and developing Ngoc Linh ginseng. 
During that time, he had to struggle with malaria, disease, difficulties and failure. 
And he has reaped fruit: there in the deep jungle, there are 126,000 ginseng plants, of which 10,000 are over 10 years old.
"The ginseng over seven years old can be sold for VND30 million per kilo, while older ginseng is five to seven times more expensive."
Vu Trung