VietNamNet Bridge - Vietnam's economic development has heavily relied on natural resources, adversely affecting biodiversity due to unsustainable exploitation, according to a report from the Ministry of Natural Resources and Environment (MONRE).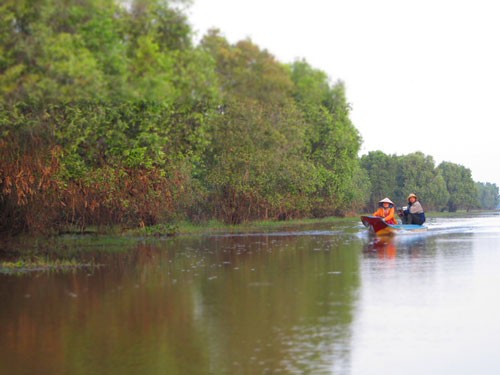 Disappearing species
Vietnam ranks 16th in the world in terms of biodiversity. It is one of 10 of the world's most diversified biodiversity centers with many different types of ecosystems and genetic sources. However, diversity is in danger because of unsustainable and poorly managed exploitation, an increase in population and rapid urbanization.
In 2007, Vietnam had 880 plant and animal species listed in the Red Book as endangered species. To date, 10 animal species have been recognized as extinct in the wild. Vietnam's Java rhino, one of the two populations of rhinos left in the world, has been considered extinct since 2010.
Meanwhile, other rare and precious species are in danger due to illegal hunting and changes of habitat. Cement plants, which destroy lime stone mountains to get materials, have pushed Trachypithecus delacouri and Rhinopithecus out of their natural habitat.
The number of tigers, which live in natural sanctuaries, in Vietnam has fallen to 30. In the past, there were thousands of tigers in the country.
The underwater ecosystems have also suffered from human exploitation. Vietnam once took pride in its coral reefs in Co To, Quang Ninh province. 
However, the reefs there have died since 2007. The coral reef area nationwide has decreased by 10 percent to 14,000 hectares, of which only 3 percent is still developing. 
Hydropower plants
According to MONRE, more than 100,000 hectares of dipterocarp, an endemic ecosystem which exists in the Central Highlands, have been devastated to clear land for rubber plantations.
Meanwhile, mangrove forests have dropped from 400,000 hectares in 1943 to 130,000 hectares. People needing land for shrimp hatchery and aquaculture have cut down the trees.
The total forest area and forest coverage in the country has begun to increase, but the majority of the forests are planted ones, while the areas of forests rich in biodiversity have been decreasing rapidly and primitive forests have nearly disappeared.
Hydropower plants have been described as "evil geniuses" that threaten the country's biodiversity. More than 800 hydropower plants have been and will be built as planned. 
The actual number of hydropower plants could be even higher because many plants have been built though they are not listed in the national hydropower development program. The thirst for energy has been damaging ecosystems.
NLD