VietNamNet Bridge – The negotiations to seek capital for the second phase of the Nhieu Loc – Thi Nghe Canal upgrade project were completed in 2014, and project implementation will start this year.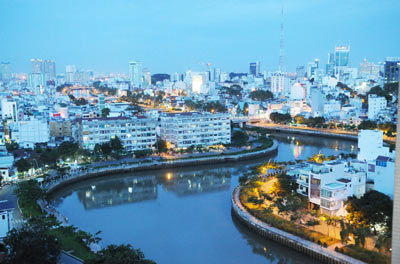 The second phase of the project, expected to cost $450 million, will focus on restoring and protecting the ecosystem of the Sai Gon River and the lower course of the Dong Nai River in addition to upgrading the urban area face.
Vuong Hai Long, deputy head of the HCM City Environmental Sanitation Project Management Board, said the World Bank continues to be the major funder of the project.
Some important items would be built under the project, including a waste water treatment plant with the capacity of 480,000 cubic meters per day and the system of sewers for collecting waste water with the length of eight kilometers, which would connect the system built in the first phase of the project and bring waste water to the waste water treatment plant.
A waste water collection system would also be installed in the wards of Thao Dien, Binh Trung Dong and Binh Trung Tay in district 2.
Long said the major target of the project is to collect untreated waste water discharged into the Sai Gon River and bring it to the plant for treatment before returning to the river.
Households which do not have the financial capacity to build sewers bringing waste water from their houses to public sewers would receive financial support from the project.
The successful implementation of the first phase of the project on improving HCM City's environment, which cost $200 million, has significantly helped settle flooding and pollution, benefiting 1.2 million people in many districts. Over 7,000 households had to leave to give way to the project.
However, a waste water treatment plant was not built in the first phase. The waste water is preliminarily filtered at a pump station, with the capacity of 64,000 cubic meters per hour, before it is discharged to the Sai Gon River.
High hopes have been placed on the second phase of the project. With a waste treatment plant to be built, all the waste water in the Nhieu Loc – Thi Nghe basin and some wards in district 2 would be cleaned before going to the Sai Gon River.
Regarding the invitation for bid, Long said the project's board of management would give priority to contractors that execute projects well.
"Only if the technical requirements can be met will we consider other factors to be offered by the contractors, including prices," he explained, adding that contractors from Australia, Thailand and Japan have registered to attend the bid.
Thien Nhien