VietNamNet Bridge – The Song Lam Sugar JSC has been found discharging thousands of cubic meters of untreated waste water into the Lam River in the central province of Nghe An.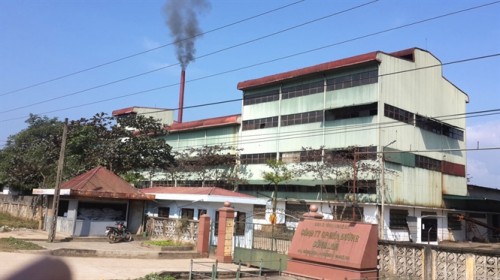 Lam River, also known as the Ca River, has become black and smelly because of the waste water discharge from the sugar refinery.
A local resident from Anh Son District of Nghe An province said the company began water discharging the water in 2000. Many inspection tours have been conducted but the situation has not improved.
"We have been living together with a terrible smell for tens of years," he said, adding that the bad odor can extend within a radius of 1.5 kilometers.
The local man led reporters to the site where the untreated waste water originates. Behind a wall separating the sugar refinery and the Lam River were two sewers bringing waste water to the river.
Half of the river section, which extends 1,000 meters from the sugar refinery towards the lower course of the river, was "dyed in black". There was no living organism on the river.
A local resident, who was exploiting sand on the river, said no one has bathed in the river since the day the sugar refinery opened.
"We don't know what they (the sugar refinery) discharge into the environment, but the water makes people itchy," he said.
The man said locals had lost their livelihood because of the problem.
"What I can do there is exploit sand. But there is no more fish to catch," he said. "We have to go several kilometers away from the sugar refinery to fish."
A woman complained that she has to give up farming fish in cages, which helped to feed her family in the past.
She said that at first the Song Lam sugar refinery was welcomed by locals, who hoped their children would have good jobs at the factory and on sugar cane fields. However, later, they became concerned about the long-term influences of the refinery to the people's health.
They have been repeatedly complaining about untreated waste water discharged by the local authorities and relevant state agencies. However, the untreated waste water continues to flow into the river.
Nguyen Van Hieu, chair of the Dinh Son Commune People's Committee, confirmed that he has received many complaints lodged by local residents which he has forwarded to state management agencies.
"Inspectors came and imposed fines on the substandard waste water. The company paid the fine and then the pollution continued," he said.
Nong Nghiep