VietNamNet Bridge – Delegations from Vietnam, Thailand and Cambodia have proposed extending the consultation process for the Don Sahong hydropower project in Laos by six months to one year before work on the project starts.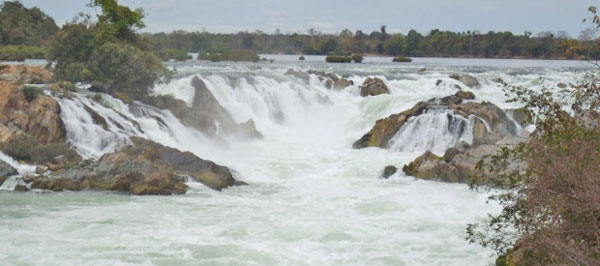 Don Sahong dam -- Photo: internatinalrivers.org
The proposal was made at a meeting of the Mekong River Commission (MRC) Joint Committee in the Laotian capital of Vientiane last week to review the six-month consultation which ended over a week ago on risks and benefits of damming.
The previous national and regional consultation processes showed that the information provided by the project investor lacks statistics and measures to minimize the negative impacts of the project, especially solutions to fish migration.
Laos previously announced the implementation of Don Sahong hydropower project in September 2013. This is the second dam to be built by the neighboring nation on the mainstream of the Mekong River.
The dam is capable of supplying sufficient water for a 260-MW hydropower plant. However, many experts have expressed concerns over its construction due to trans-boundary impact on fish migration and biodiversity.
At the meeting last Wednesday, the Cambodia delegation requested careful assessments of the environmental and socio-economic impacts of the project in the downstream area. In addition, more time is needed for the MRC members and partners to carry out in-depth studies and detailed assessments of trans-boundary impacts.
Thailand wanted more data and information for the further evaluation of positive and negative impacts as well as appropriate solutions. The nation also expressed concerns over biodiversity, fish migration and Thai people's livelihood.
The Vietnamese delegation suggested more information about fisheries, alluvium, and the efficiency of mitigation measures applied by the investor.
The affected nations as well as many local and foreign non-governmental organizations have voiced their concerns over the construction of Don Sahong dam.
However, Laos said the consultation process of the project has been completed.
The delegations agreed to submit data of the project to the international council of the MRC for review and comment.
SGT