VietNamNet Bridge – Ha Giang province in the past welcomed the construction of a number of hydropower plants, but they have now badly affected the environment and ecosystem.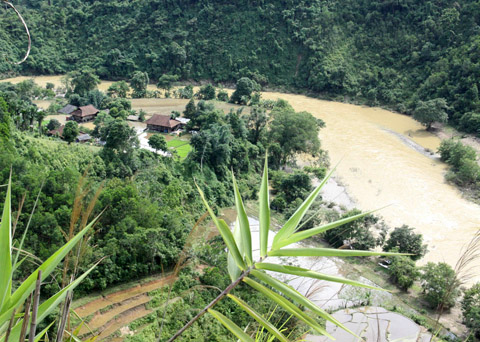 The power investors have also not paid the environmental service fees as stipulated by  law.
One report showed that the debt had reached VND60 billion, while the figure will increase if the enterprises do not pay the debt.
Under current law, hydropower plants have to pay fees for forest plantation to compensate for the forestland they use for developing hydropower plants.
Locals receive VND20 only per kwh of electricity for the forests they plant.
In principle, hydropower investors have to pay the service fee annually. However, they repeatedly ask for debt payment delay.
No one in the past thought that the investors, who can make big profits with their projects, would refuse to pay debts.
The unpaid environmental service fees have become so big that the Ha Giang authorities themselves have had to get involved in demanding payment of the debts.
Failing to negotiate with the debtors about the service fee payment, the provincial authorities in late 2014 and early 2015 repeatedly sent dispatches to the Ministry of Industry and Trade (MOIT) and Ministry of Agriculture and Rural Development (MARD) to ask for the ministries' help to collect debts.
Most of the debtors named by the Ha Giang provincial authorities are major players in the hydropower industry headquartered in Hanoi. They include the Nam Mu Hydropower JSC, a subsidiary of Song Da 9 Corporation, the Vietnam Electricity Development JSC and Bitexco, a major player in the real estate sector.
The Nam Mu Hydropower JSC is now the biggest investor and debtor in Ha Giang. The company now runs three hydropower plants – Nam Mu, Nam Am and Nam Ngan - in the province, which have huge investment capital of VND800 billion in total.
Of these, Nam Mu, capitalized at VND220 billion, still owes VND3 billion to the local authorities for the forest environmental service fee.
Tran Trong Thinh, a senior executive of Nam Mu JSC, confirmed that the company has paid VND400 million for the service fee only.
It not only owes money to local authorities, but the company reportedly cannot pay bank debts and workers' salaries. It has not paid salaries to workers since last October.
Dai Doan Ket