VietNamNet Bridge - Bears in captivity at three farms in Ha Long City in Quang Ninh Province are starving and dying en masse within a short time, reported Animals Asia.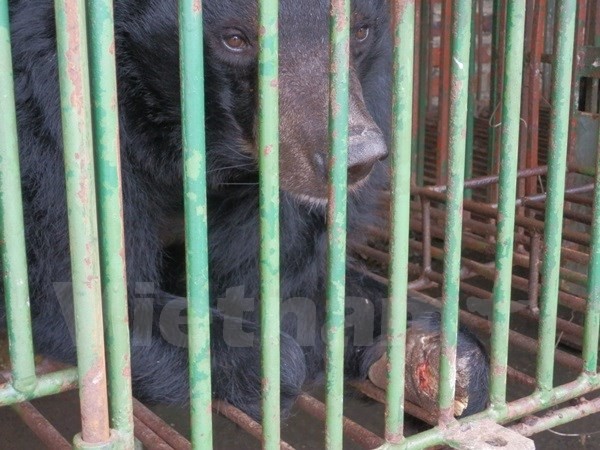 A bear without feet at a bear farm in Quang Ninh. Photo: VNA
Since last November, when Animals Asia and Quang Ninh authorities evaluated the health of bears at three bear farms, at least 12 bears have been reported dead, including four cases on the same day and at the same farm.
The remaining bears had many wounds on their bodies, or were severely malnourished and starving.
According to a recent survey by Animals Asia and Quang Ninh officials at the bear farms in the town of Quang Yen in Quang Ninh, most of the bears were hungry and had lost limbs. They also were covered with wounds, had bare foreheads and shook their heads repeatedly and rubbed their bodies against the cage again and again.
According to Animals Asia, the risk of death for this group of bears is very high, causing negative consequences for the conservation of bears in Vietnam.
Notably, experts said that the mass death of bears posed a question whether the farms tried to kill bears for the purpose of selling body organs.
Animals Asia has reported the situation to relevant bodies and has asked them to take measures soon to save the bears.
Dr. Jill Robinson MBE, founder and Chief Executive Officer of Animals Asia, said the risk of bear deaths is increasingly serious if the authorities do not take early action.
But it is not too late to rescue the bears and take them to the Vietnam Bear Rescue Center.
Dr. Tuan Bendixsen, Chief Representative of Animals Asia in Vietnam, said: "The owners of bear farms breed bears in very bad conditions, which do not meet the standards prescribed by the State. They are showing that they cannot afford or do not want to nurture the bears anymore."
Therefore, Animals Asia has called for support from local and international communities and the Vietnamese Government to quickly close bear farms in Quang Ninh and take the bears to the Vietnam Bear Rescue Center.
According to the Forest Protection Agency of Vietnam, over 2,000 bears are imprisoned at bear farms.
In Vietnam, Animals Asia in cooperation with the Ministry of Agriculture and Rural Development, built the Vietnam Bear Rescue Center in Tam Dao National Park in Vinh Phuc province.
The centre was put into operation in 2006 and has rescued more than 100 bears.
Minh Trung