VietNamNet Bridge – The dipterocarp forest ecosystem is being devastated in Yok Don National Park, and animals there are being killed day and night.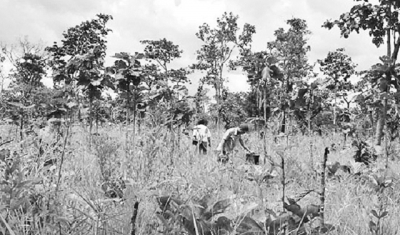 Covering an area of 115,545 hectares, 93 percent of which is dipterocarp forest, Yok Don bears the typical characteristics of Southeast Asia's tropical forests.
Scientists say there are 489 animal and over 100 insect species living in the park. Of Indochina's 56 rare and precious animal species, 36 species can be found in Yok Don, including 17 species named in World Red Book.
The vegetation at Yok Don National Park is dominated by deciduous forest and semi-evergreen (mixed deciduous) forest, with smaller areas of evergreen forest, particularly on hills and along water courses. The local diversified flora provides valuable medicinal herbs and precious woods.
Yok Don National Park, put under special protection for biodiversity, is the only place in Vietnam where dipterocarp forest, one of the typical forest types in Vietnam, can be preserved.
However, this may not be true in the future anymore. The forest has been gradually disappearing because people need land to till rice fields, grow coffee and rubber and build hydropower plants.
As Yok Don has many rare and precious animal species and plants, illegal loggers and hunters, who have been trying to exploit the forest resources for money, target the area.
When asked to comment about the situation at the park, Do Trong Kim, deputy head of the Forest Protection Department, said the deforestation there was at the "red alarm rate".
Dr. Dang Huy Huynh, a renowned scientist, said he could see with his eyes how local people had destroyed medicinal herbs. He warned that if no drastic measures were taken as soon as possible, Vietnam would lose all of its precious medicinal herb genes.
Meanwhile, the Union for Conservation of Nature and Environment of Vietnam and the Department of Conservation and Biodiversity have said it was urgent to protect the dipterocarp forest.
Most recently, in late 2014, tens of old big trees with the trunk diameter of 30-50 cm were found felled in the Ward No 471 of the national park, put under the supervisions of the Forest Rangers' Unit No 6.
Some months ago, the police discovered groups of locals going to the forest with hunting dogs to hunt for varans.
Dr. Vu Van Dung from the Institute for Forest Inventory and Planning, who said the dipterocarp is now in danger, emphasized that if Vietnam can protect Yok Don, it would also successfully protect the South East Asian and Vietnamese dipterocarp forest ecosystem.
The Deputy Chair of Dak Lak provincial People's Committee, Dinh Van Khiet, warned that once the dipterocarp forest disappears, there would be no more Central Highlands' forest.
CV