VietNamNet Bridge - Save Vietnam's Wildlife has launched a campaign to preserve Owston's palm civet, a rare species in Vietnam.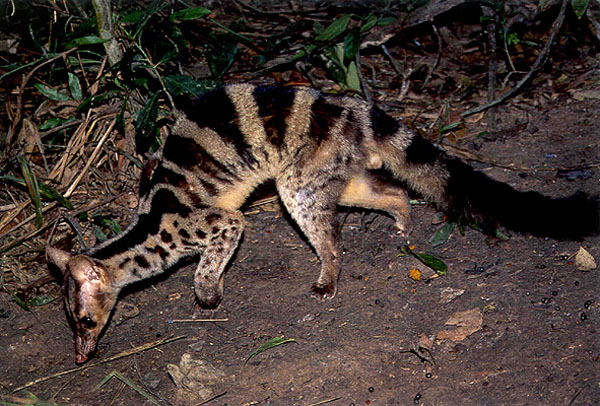 Nearly 2,000 copies of posters and calendars to highlight the importance of Owston's palm civet conservation have been distributed to forest protection departments in 63 provinces and cities and 20 offices working in nature conservation in Vietnam.
The campaign, organized for the first time in the country, aims to raise public awareness and ensure that confiscated Owston's palm civets and wildlife are transferred to rescue centers.
"Over the past 12 years, no Owston's palm civet has been transferred to rescue centers in Vietnam. Most of them, after being confiscated, were immediately released into the forest without quarantine and surveillance or were sold," said Mr. Nguyen Van Thai, director of Save Vietnam's Wildlife.
Owston's palm civet (Chrotogale owstoni) is a civet native to Vietnam, Laos and southern China. It is listed as Vulnerable by IUCN because of an ongoing population decline, estimated to be more than 30% over the last three generations (estimated at 15 years), from over-exploitation, habitat destruction and degradation.
The Owston's palm civet is named after the wildlife collector Alan Owston.[3]
Currently, only 19 Owston's palm civets live in captivity and are managed by the Conservation Program of Carnivore and Pangolin by Save Vietnam's Wildlife and Cuc Phuong National Park. Save Vietnam's Wildlife has successfully implemented the conservation and breeding program of this civet species, with 66 baby civets born from 14 mother civets rescued by Save Vietnam's Wildlife.
Pham Ha