VietNamNet Bridge – Laos should be warned that the economic benefits it can expect from the Don Sahong hydropower plant are very modest compared with the damages it may cause, scientists say.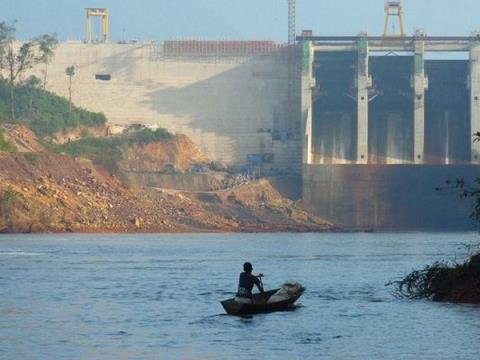 Vietnam has repeatedly issued warnings about the possible bad consequences that Don Sahong would cause to Vietnamese local residents living near the lower course of Mekong River, calling on to "let Mekong be in peace".
Phan Thanh Long from Aquaculture Research Institute No 2 said Vietnam's Mekong River Delta will suffer heavily from the hydropower dam, once it is built. The decrease in the alluvium brought to the delta's soil will lead to the lower quality of crops, while the amount of fish and shrimp farmers hope to catch will also decrease.
Besides, Dong Sahong will hinder the natural sea encroachment at the Ca Mau Cape, because of the lower level of sediment brought by the Mekong.
Scientists recently pointed out that the hydropower dam will not only affect the lower course of the river, but also bring negative effects to the area where the hydropower plant is to be located.
The Vietnam News Agency (VNA) quoted Nguyen Duc Anh from the Vietnam National Mekong Committee as saying that under the current hydrology conditions, about 4 percent of the total annual flow of Mekong goes into Hou Sahong.
Once Don Sahong hydropower plant arises, about 50 percent of Mekong current will be driven into Hou Sahong, which would increase the sediment capacity by four times. As such, the sediment reservoir will be filled up within just six years.
Sharing the same view, Le Duc Trung, Chief of the Secretariat of the Mekong River Committee's Office, said that the hydropower dam would spoil the habitat of the Hou Sahong shallow-water rapids, thus affecting the region's tourism value.
Dr. Dao Trong Tu, director of the Center for Sustainable Development of Water Resource and Climate Change Adaption, also pointed out that the overly hot development will cause terrible consequences. "While the hydropower project would bring benefits to a small group of people, it would badly affect numerous people," he said.
"Who will get the biggest benefits from the hydropower plant? Will Lao people get benefits from it?" asked Nguy Thi Khanh from the Vietnam River Network.
The answer is that the people along the banks of the river and the lower course will only get modest benefits.
Khanh emphasized that it is necessary to consider national security issues when setting up the hydropower dam.
"All the hydropower works on the Mekong River are invested in by Chinese companies," she noted.
"The Vietnam River Network believes that China is developing hydropower so as to control water sources. This is really a worrying problem for national security," she said.
Dat Viet