VietNamNet Bridge – In order to create one megawatt of electricity, Vietnam has to "sacrifice" 10 hectares of forest.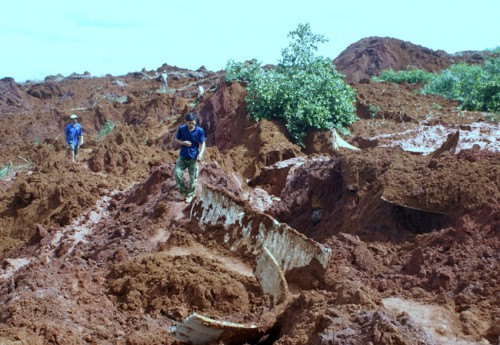 The tunnel collapse at the Da Dang hydropower construction site in Lam Dong Province in late December, trapping 12 workers for 81 hours, has once again rung the alarm bell over the rapid development of hydropower plants.
Scientists have one more reason to cite in arguing that the development of small-size hydropower projects should be curbed. They all note that they bring immeasurable consequences.
Dr. Le Anh Tuan from the Climate Change Research Institute under Can Tho University noted that hydropower projects had caused many environmental and social consequences over the last five years.
Unusually fierce floods have occurred in the lowlands causing human and property losses, river landslides and damaged traffic works.
Though 12 workers have been rescued, the construction of the work has not resumed. The Ministry of Construction (MOC) urged the Government to suspend the construction of the work and investigate the cause of the tunnel's recent collapse.
According to the Lam Dong provincial Department of Natural Resources and the Environment, the locality has to "exchange" 7.5 hectares of forest for one megawatt of electricity.
The "exchange rate" is lower than the average rate of 10 hectares in Vietnam, but higher than the rate set up by the provincial localities – 5 hectares for 1 MW.
According to the provincial Industry and Trade Department, 46 small- and medium-size hydropower projects have been weeded out from the local electricity generation development program, while it is going to propose to clear another six projects out of the 91 projects programmed in 2004-2010.
At present, Lam Dong has eight small hydropower projects with the total capacity of over 100 MW under the construction. Meanwhile, 12 other projects have become operational with the total capacity of 276 MW.
Under the current regulations, once investors develop hydropower plants on forestland, they have to plant forests to compensate for the areas they take.
However, forest planting has been proceeding slowly. Nine investors were asked to plant 430 hectares of forests in 2014, but to date, only 138 hectares of forests have been planted.
Many accidents at hydropower sites have been reported.
These include the tunnel collapse at Da Dang power plant, and the pipeline explosion in Loc Bac commune of Bao Lam district in Lam Dong province in late June 2011, which killed five people.
Another accident occurred in late November 2012 at the Dak Mek hydropower plant in Dak Glei district of Kon Tum province due to errors in the project execution.
Nearly 300 hydropower projects are expected to be developed in the Central Highlands, which have a total capacity of 7,000 MW.
Nong Nghiep