VietNamNet Bridge – In the 1950s, Vietnamese used about 100 tons of pesticide in agricultural production a year. The figure soared by 150 times 40 years later.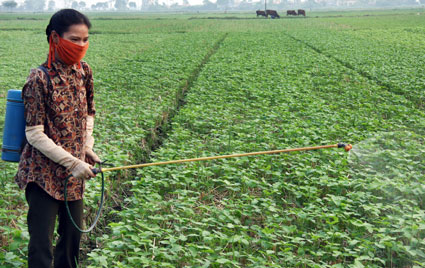 An expert commented the way of using plant protection chemicals is special, because there is no common rule to follow. Vietnamese farmers use chemicals and spray pesticide any time they think they have to do this.
"They don't care how the pesticide overuse will affect plants, soil, water sources and humans, because they believe this is the management agencies' and scientists' business," he noted.
The expert went on to say that Vietnam is leading the world in rice, coffee and tea exports, but it is also among the countries with a high use of pesticide.
He cited a recent report as saying that 85 percent of vegetable growers "use pesticide based on their own experience", while 43 percent of them use pesticide with a concentration twice as much as recommended.
The report also said farmers spray pesticide any time when they discover insects and they sell vegetable products whenever they need money.
The unplanned use of pesticide has caused worrying problems. Up to 51.24 percent of vegetable samples have been found to have pesticide and heavy metal residues higher than the permitted levels.
A report by the Ministry of Health showed that there are 15-20 million people in the country regularly exposed to pesticides, and 70 percent of them show symptoms of poisoning. This is one of the 10 biggest causes of mortality at hospitals, and this is one of the reasons causing cancer.
The other surveys conducted by many agencies have also found alarming figures. Vietnam spends VND20-24 trillion every year on plant protection chemicals. It has to import 100 percent of active elements, 90 percent of additives and 50 percent of plant protection products, mostly from China.
According to the Plant Protection Agency, it discovered during a recent inspection tour that 0.6-0.8 percent of import consignments of plant protection chemicals could not meet the standards, which were then forced to be re-exported, and 3-10 percent of products made domestically could not satisfy the requirements.
There are 20,000 plant protection chemical sales agents throughout the country, but it is very difficult to control the quality of the products distributed by them.
Analysts noted that the benefits Vietnam gets are not adequate to the money it spends. Tuoi Tre quoted its source as saying that Vietnam spent $700 million on plant protection in 2013, while the money it gained from tea exports was just 1/3 of that amount.
Thien Nhien