VietNamNet Bridge – The Con Dao National Park in southern Ba Ria-Vung Tau Province is the first place in Vietnam to successfully implement a sea turtle conservation and rescue programme through numerous efforts taken since 1987, greatly contributing to the action strategies on biodiversity of the country and the region.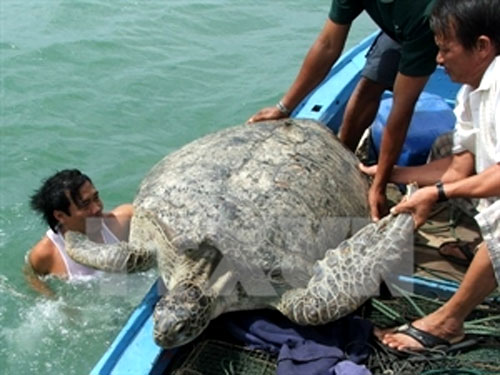 An endangered turtle is released into the nature.
Before 1987, marine turtles such as green turtle (Chelonya mydas) and hawksbill turtle (Eretmochelys imbricate) were freely hunted in the island for fine art products and food.
But after the visits by Prof. Vo Quy from the Hanoi General University and Elizabeth Kemf, Secretary of Greenpeace International, in the middle of that year, local authorities paid more attention to protecting them as recommended by the scientists.
The Con Dao district People's Committee issued a ban on the transport of sea turtles and their products out of the island and a decree on protection of fishing grounds, natural resources and the marine environment in Con Dao. These are important legal foundations for the management and conservation of marine turtles in the islands.
The management board of the Con Dao Forbidden Forest (now Con Dao National Park) set up ranger stations in small islands where turtles usually gave birth such as Hon Bay Canh, Hon Cau, Hon Tre Lon, Hon Tai and Bai Duong as part of its efforts in preventing the illegal exploitation of sea turtles.
Thanks to the support of the Worldwide Fund for Nature (WFF), the turtle conservation at the park has been implemented in a more scientific and methodical way, with a number of studies on female turtles' nesting periods and migrating sites, impacts of nest temperatures on the gender of offsprings and the DNA structure of the local marine turtles.
The Con Dao National Park boasts 14 beaches where turtles make its nests, covering a total area of over 20,000sq.m. From May to October every year, over 400 female turtles lay eggs on the beaches. More than 120,000 baby turtles are released into the sea annually.
The park was twice recognised by the Vietnam Record Book Centre (Vietking) as the place breeding and freeing the largest number of marine turtles.
VNA/VNN