VietNamNet Bridge – Deforestation and habitat loss as well as climate change impacts explain the increased appearance of viper bite victims in emergency rooms in central Viet Nam.
Central Region: Red-tailed vipers attacking people in their homes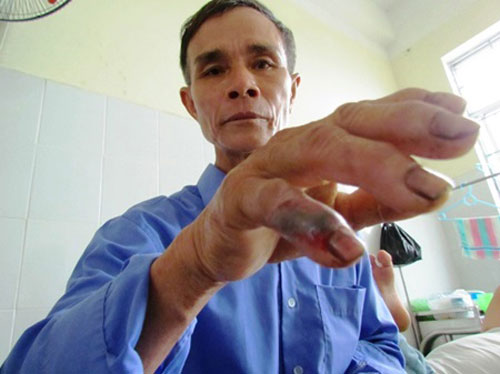 Dozens of people bitten by the poisonous snake have been rushed to hospitals everyday in Quang Ngai, Quang Nam and Da Nang. — Photo PNO
Dozens of people bitten by the poisonous snake have been rushed to hospitals everyday in Quang Ngai, Quang Nam and Da Nang.
Since early this month, Quang Ngai General Hospital has treated one or two victims a day. Most were bitten while working on farms, in gardens and in forested areas in Duc Pho, Mo Duc, Nghia Hanh and Tu Nghia districts.
Quang Nam reported eight victims alone this month. Four cases came from Da Nang's suburbs.
Some biologists and experts believe that climate change and rapid reclamation has severely impacted the living environment and habits of the viper.
Deputy director of Dong Tam Snake Farm in Tien Giang province, Vu Ngoc Luong, told Viet Nam News that land clearance for industrialisation and farming had encroached upon the reptile's terrain.
"Climate change is the major reason behind the viper appearance in human habitations. Disappearing forests and worsening living conditions for the reptile result because of disruptive human activities. The red-tailed variant of the viper is a poisonous snake that can kill people if they aren't taken to hospital in time or receive medical attention," Luong said.
"Storms and floods in the rainy season combined with warmer weather made the central region ideal for breeding the reptile. When human activities invade its habitat, the number of victims increases," he said.
Luong said his snake farm, which was also a medical centre providing treatment for snake bites, had treated 1,400 victims so far this year, 900 of whom had been bitten by vipers.
Biology lecturer Nguyen Thi Hoa from Quang Ngai's Pham Van Dong College, said forests were being destroyed, making the snake diet of frogs, toads and rats scarcer. She said this food deficiency had forced the viper to seek new prey.
"It unintentionally comes closer to human settlement, especially in rural areas. The viper does not attack people, but it will bite if someone touches it. It's an instinctive reaction to danger," she said.
Forest rangers in the central city of Da Nang have recorded 17 vipers in rural areas in Lien Chieu, Hoa Vang and Son Tra.
Head of the forest protection department's city bureau, Tran Van Luong confirmed the recent viper sightings in bushes and farms near forested or mountainous areas.
"A few years ago we saw them on just Son Tra Mountain while ranging in the forest. But this year, they have been seen near human living quarters in rural and suburban areas," Luong said.
"We warned all residents in these areas to be cautious but not too nervous. They have been told to clear undergrowth and keep their houses tidy and clean. Wearing protective boots, long clothes and carrying a stick when working on the farm or in the forest is also advisable," he said.
Luong from the snake farm said that people should take victims to hospital as soon as possible and provide first aid, such as making a tourniquet, cleaning the wound and keeping the victim as still as possible.
VNS/VNN