VietNamNet Bridge – Climate change, which has led to habitat destruction, has prompted red-tailed vipers (Trimeresurus albolabris) to enter residential quarters in the central region and attack people.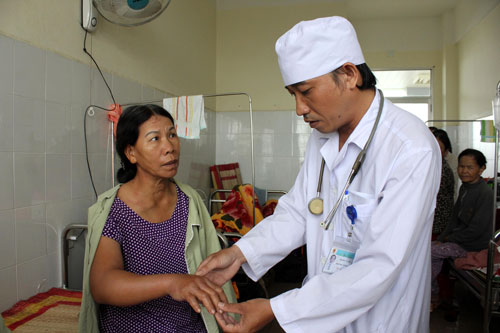 A victim of red-tailed vipers.
The vipers have been seen over the last week in many placed in Quang Ngai province, causing people to panic. People have rushed to buy Wild Chives (Allium schoenoprasum L)  and cymbopogon trees and grow them around their houses to keep vipers away, pushing up the prices of the trees.
Locals in the districts of Thang Binh, Dien Ban and Tien Phuoc of Quang Nam province have also been in a state of anxiety as many people have been beaten by the vipers and hospitalized for treatment.
The vipers are also attacking people in Thanh Hoa, Nghe An in the central region, Vinh Long, Can Tho and Hau Giang in the south.
Within a short time, local hospitals have received hundreds of patients attacked by vipers. The Quang Nam General Hospital, as reported by the hospital's director Pham Ngoc An, has treated eight cases of this kind just over the last week.
"We have never received so many patients bitten by snakes before. This is really abnormal," An said.
Nguyen Vu Khoi, director of WAR, a wildlife conservation organization, has called on people not to destroy the vipers.
He said red-tailed vipers live in deep caves, away from humans. The appearance of vipers in residential quarters should be attributed to the prolonged warm weather which creates favorable conditions for vipers to multiply. When the weather cools, the vipers will creep into deep caves.
For the time being, Khoi said locals should clear bushes and keep houses, water tanks clean, so that snakes cannot seek shelter in houses.
"Every species can do both harm and good. Red tailed vipers bite people, but they can help kill insects, rats and some other harmful creatures," he said.
"Extirpating vipers will lead to biodiversity imbalance," he warned. "With climate change, not only snakes but other creatures would go to residential quarters."
Dr. Vu Ngoc Long, head of the Southern Ecology Institute, said unlike some other species of snakes, red-tailed vipers do not like residential quarters, and they would not attack people unless people touch them.
Long believes that the red-tailed vipers appear in residential quarters because they feel danger in their living environment. People have damaged their land areas, thus forcing them to evacuate to other land. They have also used chemicals and pesticides that kill reptiles and amphibians, the main food of vipers, thus forcing them to look for food.
NLD