VietNamNet Bridge – As many as 4,500 hectares of forest and forestland under the management of the Truong Xuan Forestry Company in Dak Nong Province have been cleared in the last five years.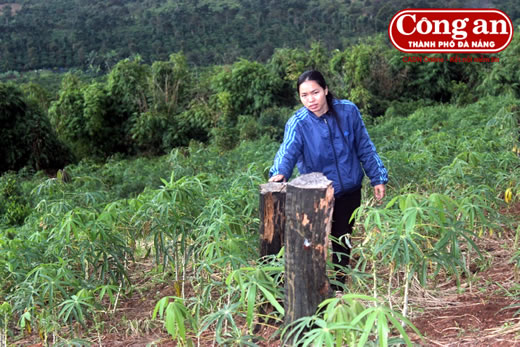 Competent agencies threatened to commence criminal proceedings against Truong Xuan, but the company remains safe and sound.
The forests in Sections 1687, 1706, 1707 under the management of Truong Xuan have been stripped bare. No forest trees are left; only maize, coffee, pepper and cassava crops remain.
Y Thai, a local man, said he was the owner of one hectare of cassava and coffee there. The other land areas have been taken by other households for growing "crops that can feed people", he said.
"We have 1.6 hectares of coffee and cassava growing land. I bought 1.2 hectares of land with money, and I changed the other 0.6 hectares from waste land into cultivated land," said Ma Khanh from Hamlet 3 of Truong Xuan commune.
Thai Gia Hoan from Truong Xuan Company said many local people tilled the company's land but then sold the land to migrants from the north at VND200 million per hectare. Though the company knew about this, it could not prevent the illegal sales.
Hoan said just within five years, from 2008 to 2013, over 4,500 hectares, including 3,500 hectares of natural forests, disappeared.
The deforestation has been blamed on many reasons. Hoan said the forestland under Truong Xuan's management is located near Gia Nghia Town, so it is coveted by many people. Meanwhile, annual spending on the forest protection has not been high enough to prevent illegal logging.
"Besides, the high number of migrants has led to a sharp increase in the demand for land for agricultural production. This prompted people to appropriate forestland. It was inevitable," he said.
Meanwhile, Nguyen Huu Khanh, deputy chair of Dac Song District, pointed out that some company workers competed with local farmers to "steal" the forestland.
Meanwhile, competent agencies did nothing because they thought Truong Xuan Company, which was assigned to manage the forestland, should take responsibility for the issue.
Truong Xuan Company reported that only 181 hectares was cleared, while in fact, 4,500 hectares of forests have been destroyed.
Vu Minh Khoi, deputy director of the Dak Nong provincial Department of Agriculture and Rural Development, thinks the company did not reveal the real figure of the lost forestland area in order to avoid punishment.
However, Hoan from Truong Xuan Company attributed this to the weak capability of the company's workers, who made mistakes during the survey.
The Dak Nong provincial inspectors came to the conclusion that Truong Xuan committed serious wrongdoings when losing thousands of forestland, and that the case must be brought to criminal prosecution.
However, no one has been punished, and the manager of the company enjoyed immunity from criminal prosecution. 
Mai Thanh