VietNamNet Bridge – The Lo River, which runs across Tuyen Quang Province, has turned black over the last few years. It is now called the dead river as no living organism can survive in its waters.
Lo River being poisoned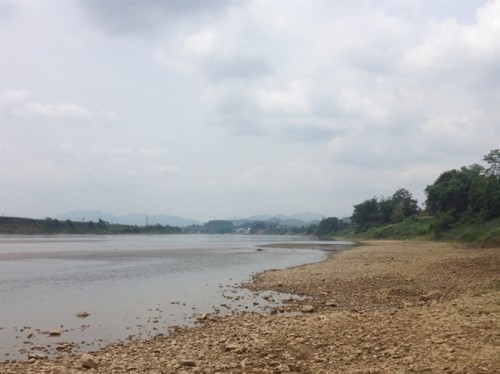 The Lo River.
Reporters visiting the Cap Tien Commune of Son Duong Province on a summer day complained of a smell that produced a burning sensation in their sinuses, and that breathing had become difficult. Local residents said the smell was the "product" of An Hoa, a local paper manufacturer, with a plant just 200 meters from the residential quarter.
Do Thanh Chung, a man in the commune, said he has been living with the terrible smell for the last several years. His two children both have respiratory problems.
Chung is not alone. Hundreds of locals living near An Hoa Company breathe the same bad air all day long.
Affirming that An Hoa is the culprit that poisons Lo River, local residents said that they sometimes see the waste water running from An Hoa to the river at dawn.
The waste water from An Hoa produces a terrible smell affecting a large area with a radius of several kilometers. The water, according to the locals, is dark green sometimes and black at other times.
D, a man in Phu Luong Hamlet, who lives on hunting frogs, said An Hoa does not follow any fixed schedule when discharging water. However, the discharge of waste water is mostly done late at night or at dawn.
"I always have to hold by nose when I am hunting frogs. The smell is terrible," he said.
Despite the high risks, nearly 6,000 people in Cap Tien Commune still have to use the water from the wells next to the Lo River for their daily lives.
Moreover, they must use the dirty water to irrigate their fields.  A farmer said that her rice fields turned red and died after they were irrigated with Lo River water. She tried to rescue the other rice fields by spreading more pesticide, but the rice plants have been growing very slowly.
"The yield is very slow, just tens of kilograms from every sao [360 square meters]," she said.
Manufacturer breaks promise
The locals said that before starting its operation, An Hoa promised the community that it would spend money to fund people's healthcare services. Additionally, some 100 households near the factory would receive sugar and milk as gifts every month. An Hoa also promised to take out insurance policies for them.
As of yet, nothing has come of those promises: no insurance and no free healthcare.
When asked about the relation between the untreated waste water from An Hoa and the common diseases being suffered by locals, Nguyen Tien Lam, Chair of Cap Tien Commune, said if the problem cannot be settled, serious consequences will appear in 5-10 years."By that time, Cap Tien will be providing one big 'cancer commune' to the country," he added.
One year ago, Cap Tien's people were told that they would have clean water for daily use, to be provided by a water plant about six kilometers away. However, the clean water project has shown no signs of moving forward.
Nong Nghiep