VietNamNet Bridge – Rising sea levels caused by climate change and offshore land exploitation for building hydroelectricity plants are threatening the safety of the locals and Ba Dong Beach.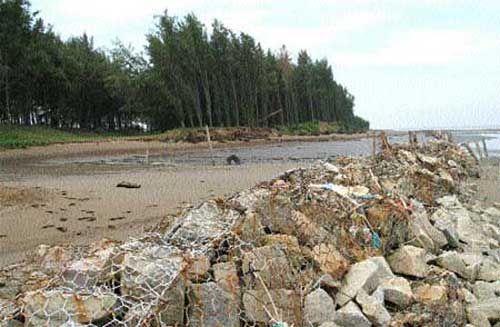 Looming danger: Flood tides have cracked the sea dyke in Duyen Hai District's Hiep Thanh Commune, threatening the lives of over 200 households as well as the surrounding arable land. 
The Ba Dong Beach, located in Tra Vinh Province's Duyen Hai District, is famous for its well-preserved primitive beauty, sand dunes, tranquil sea, and fresh air.
It is a blazing hot day, but Dang Van Phuong and his entire family are engrossed in removing the furniture from their low, tin-roofed house supported by wooden columns that are buried in a sand bank.
Living in proximity to the place where flood tides had destroyed the sea dyke last year and caused a huge crack measuring 1,400 metres in length, Phuong and his kin are apprehensive about the looming dangers.
Thus, they want to move over to a new house further towards the mainland, though it is only some hundred metres away from their current home.
"My house was once at a distance from the sea, but flood tides have encroached on the sea coast, thereby displacing it nearer to the sea," Phuong said, recalling the night when flood tides inundated his neighbourhood of Con Nhan in Duyen Hai District.
"I heard the roar of the sea waves throughout the night. When I woke up, my house was already submerged in knee-deep waters," he recollected.
Flood tides inundated the entire area under watermelons that Hai intended to harvest for sale in the previous Lunar New Year.
Although Phuong has buckled down on growing new crops, the fruit can no longer be grown, as the soil has become alkaline due to the sea water.
He is no exception, as nearly 197 households in Con Nhan have suffered property losses from the flood tides.
Con Nhan means leisureliness in Vietnamese language. But, according to Phuong, people residing in the neighbourhood are always in a hurry and are toiling away all year round.
Widespread
Moreover, the flood tides are also affecting hundreds of households in Truong Long Hoa, Hiep Thanh, and Dan Thanh communes, which form the Ba Dong beach in Duyen Hai District.
According to Deputy Chairman of Truong Long Hoa Commune People's Committee Nguyen Van Uol, as many as 146 households in the three hamlets of Con Trung, Khoan Tieu and Nha Mat are being threatened by flood tides.
The commune is renowned for its sand dunes, which are naturally shaped by the sea breeze, and Nha Mat, which is a pleasure house built by the French in the early part of the 20th century.
"People in the coastal areas are living in fear, particularly 85 households in Khau Lau neighbourhood where sea dykes and forest trees were swept away by flood tides, inundating all houses and forcing the local people to relocate to higher places. Though the people have returned to their houses, they are always in a state of anxiety and uncertainty," Uol noted with a grim look.
Hundreds of households in Hiep Thanh Commune have also lost their land to flood tides. A wife of a war martyr, Truong Thi Dinh, remarked that a water nymph had taken over her house and farming land, so her family is leading a life of destitution.
"Our life is precarious because we do not have any farming land. My only child has to work as a hired labourer, even then we find it hard to feed all our grandchildren," the 74 year-old woman claimed.
According to Chairman of Hiep Thanh People's Committee Nguyen Van Kiem, flood tides have washed away about 2 kilometres of land at the deepest site and several hundreds of metres at the narrowest point. The commune has lost about 200 hectares of arable land.
Once protected by mangrove forests, Hiep Thanh and other adjoining communes were covered by alluvium. But, things started to change since 1997, when a huge storm damaged the residual mangrove forests. Adding to the natural disaster is the human destruction of forests to procure land for shrimp farming, thereby causing severe land erosion at the seashore.
By 2010, land erosion caused property losses amounting to more than VND3.7 billion (US$1.8 million). Currently, more than 500 households have been affected by sea erosion, of which 165 households need to be relocated immediately, Kiem pointed out.
Due to limitations in the state budget, the commune has been able to build just one resettlement area to accommodate 48 households that were prioritised. Specifically, each household was given a plot of land and VND10 million to build their own house.
The resettlement area has been put into use since 2011, but it is yet to have its own school and clinic. Kiem noted that a clinic is being built, and there are plans to build a kindergarten here.
Numerous difficulties still lay ahead. Kiem explained that an increasing number of households need to be relocated to resettlement areas every year. In addition to this, they also face the thorny issue of how to help the resettled households earn their livelihood in new places, he added.
Causes of flood tides
The Duyen Hai District People's Committee has recently issued a report on the impact of sand dredging, climate change, and rising sea water levels as the key reasons behind land erosion, though diverse opinions exist related to the document.
Director of Tra Vinh Irrigation and Flood Control Department Nguyen Van Truong elaborated that although it is already clear that climate change and the impact of rising sea levels have caused land erosion, more research is necessary to find whether land dredging is also the culprit because land erosion had occurred in places located miles away from sand dredging sites and before the Duyen Hai Electricity Centre was built.
Deputy Chairman of Duyen Hai District People's Committee Chau Hoang Nghia shared the same viewpoint, stressing that sand dredging will cause geographical changes in a vast region, and facts have shown that land erosion has become formidable since such projects have begun.
"Exploiting sand at the seashore will change its terrain and create a whirlpool, thereby causing landslides at the seashore and adjacent areas," reported Professor Nguyen Ngoc Tran.
Located in Dan Thanh and Truong Long Hoa communes, the Duyen Hai Electricity Centre needs more than 26 million cubic metres of sand to level the surface of its ground for the construction of three thermoelectricity plants.
To achieve this, it sought permission from local authorities to dredge sand at the seashore. It not only exploited sand in areas approved by the local government, but the centre also did it illegally, though they were not able to obtain licences to exploit sand in other places.
Having imposed administrative fines upon its illegal sand dredging for a long time, the local government decided to bar the centre from mining sand last year, as land erosion at the seashore continues to occur in the province.
Nghia added that Duyen Hai District has a 55-kilometre-long shoreline. But, flood tides encroached and caused landslides on nearly 14 kilometres of sea dykes, destroying vast areas of forest and affecting thousands of households.
Though several billions of dong have been spent on consolidating the sea dyke system each year, such investment has proven futile in the following year due to the flood tides.
Necessary measures
To mitigate the ravages inflicted by the sea, Truong believes that it is necessary to build a stone embankment to cope with the sea waves. Accordingly, the district has invested VND83 billion ($39 million) in building a 2-kilometre-long embankment to protect its land.
Yet, such investment is still too small in comparison with the province's actual needs.
Chairman of Tra Vinh People's Committee Dong Van Lam emphasised that the province urgently needs VND475 billion ($226 million) to build 6-kilometre-long stone embankments in vulnerable areas, and another VND743 billion ($353 million) to build sea dykes.
"Once the projects are completed, thousands of households living at the seashore will be able to live and work in peace," he claimed.
In addition to this, Truong stressed that the mangrove forests will help to maintain the shoreline. To do so, efforts need to be taken in order to preserve alluvium for growing forests. Tra Vinh Province will grow 500 metres of mangrove forest on alluvial soil as a pilot project in the coming time, he said.
A peaceful life for the local people in Tra Vinh is still a far-fetched dream, as fund shortage remains a major hindrance to realising that dream.
Source: VNS