VietNamNet Bridge – Every teacher has to take care of 30-50 children during swimming lessons. The current modest teaching staff cannot provide safe swimming lessons to primary and secondary students.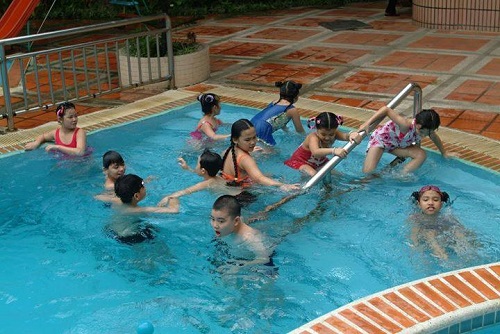 After a series of deaths by drowning, the Ministry of Education and Training (MOET) has decided to run a pilot program on teaching swimming to primary school students in 2010-2015. Fourth and fifth graders have swimming lessons a as curricular subject, while the students could include third graders as well.
However, educators have warned that primary schools currently still don't have good enough conditions, in both material facilities and teaching staff, to provide safe swimming lessons.
Most of the primary and secondary schools in HCM City don't have swimming pools. In order to organize swimming lessons, teachers have to bring students to the private owned swimming pools outside the schools.
According to Kim Anh, a teacher of a school in Go Vap district, there are only four swimming pools in the district that can serve the training. Meanwhile, the number of students who need to learn swimming is approximately 4,000, or 80 classes.
It is clear that the number of existing swimming pools cannot serve such a high number of students.
Anh also said that schools cannot arrange enough teachers for swimming lessons. On average, every teacher has to take care of 50-60 students during the lessons.
"I am afraid that with such poor conditions, teachers would not be able to respond quickly to emergencies," Anh said.
A male student of the Tran Quang Khai secondary school reportedly died of drowning during a swimming lesson on March 6.
Tran Duy, a physical teacher of an international school in district 10, commented that it was too risky to organize a swimming lesson for 100 students at the same time with only three teachers.
Duy said at the international school where he works, there are no more than 20 students during a swimming lesson. The 20 students are taken care of by a teacher and 3 supervisors who can act as rescue workers when necessary.
"I never take my eyes off the students. Any minor mistake may lead to accidents," he said.
The death of the student has made parents feel unsafe when sending their children to the swimming lessons organized by the schools.
A parent said she still cannot decide whether to bring her daughter to the swimming class. "I have been told that children need to learn to swim to avoid accidents. But I am afraid that accidents may occur before they can swim," she said.
Kim Bich, a physician of the Thanh Cong Healthcare Center in Tan Phu district, who gave the first aid to the male student on March 6, said that the student had died before he was brought to the center.
Bich, who witnessed the death of a boy who was about the same age with her son, then called her husband, telling him to go to the swimming pool where her son was having a swimming lesson to supervise the boy's learning.
"We later decided that my husband needs to undertake a new duty – taking care for the son during his swimming lessons," Bich said.
Thanh Mai